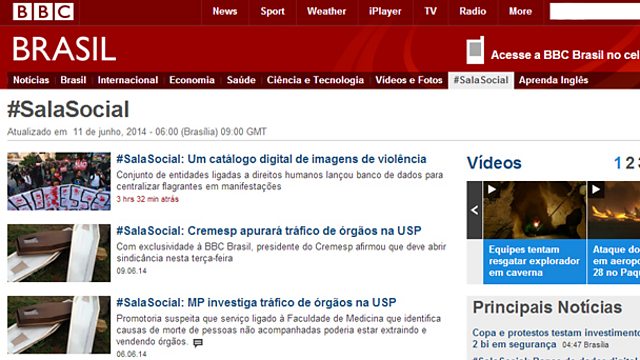 #SalaSocial from BBC Brasil
Every day we have conversations about life, family, sport or politics. Maybe a colleague or friend will be the expert, but the fact that everyone has an opinion makes the conversation richer.
Much of that rich debate is now taking place on social networking sites, and news companies can't ignore it.
We often hear people talking about 'social media engagement', but what does that mean for media organisations? The concept often remains abstract and elusive. But it shouldn't be.
For me, engagement in social media starts on our own websites with the creation of content featuring headlines, pictures and summaries that connect with readers
It then moves to social networks where we invite people to read and share our stories through a conversation - where we are another voice and not only a broadcast antenna
It is possible to have a different, more social voice while still safeguarding the BBC's editorial values. It's possible to be impartial, accurate, independent and social at the same time
Nowadays a story doesn't end once it's published. Journalists need to take it to social media and create a new form of storytelling that connects even the toughest news to people's lives
And to complete the circle we need to keep track of comments, reply to others and make sure we are talking to people. Listening and reflecting social content in our coverage should be at the heart of our daily operation.
At the BBC World Service's 27 language services, we have decided that this kind of engagement is our main priority. But we also understand that engagement is only one of the pillars of this new social agora.
The other three are:
Referrals - traffic to our sites from social media
Referrals are still a key factor, but we've seen how they grow when the focus is set on engagement. Build loyal online communities and they will bring you traffic.
Reach - number of fans or followers
Reach is a powerful way to expose your brand and content to more people. Not all your followers and fans will engage or interact with your stories, but the fact they are following means they already have a digital relationship with you.
Social newsgathering - using social media as source of news
Engagement, reach and referrals are all measurable and quantifiable. At the BBC World Service, we have created a social dashboard where we monitor these three pillars against our own benchmarks and targets. But apart from reaching new audiences and creating online communities, we also see social media as an opportunity to create a new kind of journalism. That's why we are pushing social newsgathering across languages.
We now have two 'social first' language services (BBC Brasil and BBC Turkish) which use social media constantly as a source for news and live debates. Turkey and Brazil are highly social markets that use the space to participate in politics and social issues with dramatic news agendas. And we can stay above the fray by providing an impartial space for this conversation which isn't happening on local competitors.
#SalaSocial from BBC Brasil offers social newsgathering content every day, either through live pages debating hot trends in social media or by publishing stories that are sourced and researched in social first and then complementing them with offline journalism.
Sosyal Meydan from BBC Turkish gives online audiences in Turkey a space to join in a conversation about the topics buzzing in the social sphere.
Creativity and journalism are key ingredients in this new social recipe. We can no longer pretend that audiences haven't changed or are still willing to get their news without having a say - not only in content we have published but in planning future content that matters to them.
There's a world of untold stories out there that we want to explore. If we listen, engage in a conversation and build loyal communities we will be better positioned in the new social agora.