When a fire broke out near her office in central London, BBC social media trainer Ramaa Sharma found herself caught up in reporting it as a citizen journalist.
Ramaa was asked to investigate the fire by a Twitter contact, Ravin Sampat, who was putting a story together for Blottr ("the people-powered news service").
Ravin gave Ramaa a Blottr link to upload pictures to, but she wasn't sure if she really wanted to get involved. As she wrote later:
"I hesitated... why?
Because:
a) I was supposed to be working...
b) I didn't think I'd see anything...
So I went outside anyway (lol) - because I had been asked nicely and because I decided I wasn't going to go very far."
She didn't need to go far: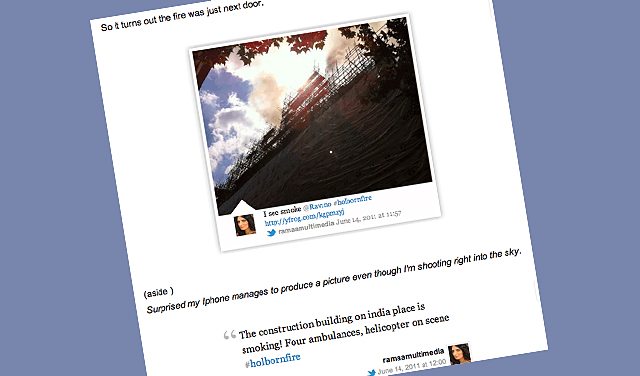 Ramaa's story on Storify
Ramaa took some pictures and sent them to Blottr, as requested. She also tweeted them to BBC London, but suspected the story wasn't really big enough for it.
But Blottr was grateful for her contribution and made the most of it.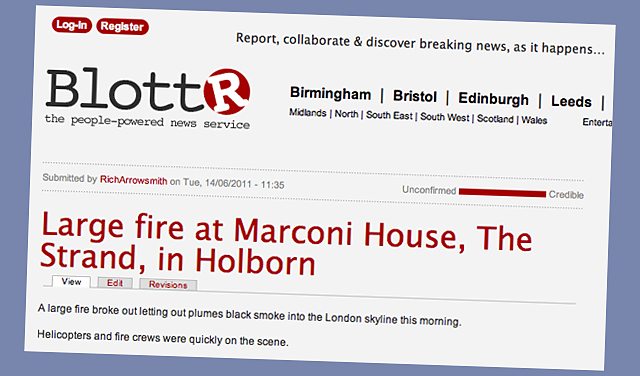 News on Blottr
Ramaa has
documented her experience
using
Storify
, a social media site that helps users to collate stories from different social networks while maintaining all the links to the sources quoted.
As Storify says
:
"We preserve all attribution and metadata for each element. We let you notify all the sources quoted in a story with one click, a great way to help it go viral. Stories with Storify are interactive, and your readers can retweet or reply to the people quoted in stories."
In the online exchange that followed her Blottr experience, Ramaa had a chance to discuss what works for citizen and conventional journalism. She'd already noticed a couple of interesting features of Blottr:
- Anyone can edit an article - after a simple registration process. So if, as Ramaa thought, the Blottr article was "full of spelling and grammatical errors", she could change them.
- The photographs are imprinted with a Blottr watermark. Ravin told Ramaa that's to protect them from being used by other media without her permission.
In fact, BBC London did cover the story, but Ramaa comments: "I find it quite flat in comparison - though it is perfectly crafted, obviously."
On the question of lack of subbing on Blottr, Ravin defended the 'get it out there' approach. He tweeted to her: "In a rush, no1 cares about how its written. news is news. its a new source of info."
Here's what Ramaa concluded about her experience:
"So the lessons I will take away...
Platforms such as Blottr will cover hyperlocal stories well - because they are active and also because bigger outlets won't touch the stories until they are much bigger. However, even these platforms require crowdsourcing champions.
(I think the following point has been established in newsrooms already, but perhaps worth saying again:)
Big media outlets must watch hash-tags, not just the obvious ones but more obscure ones, by using tools like Trendsmap and Google Realtime. Had I done this I would have discovered #aldwych.
Media outlets also need to invest time in finding the people and organisations of influence; 'nodes' I believe they are called. Including active citizen journalism platforms/journalists.
Lastly, to come back to the question I posed in the title - who should be covering hyperlocal news anyway? There is enough research to show that people are often more interested in what's going on in their back yard than elsewhere, so should big organisations be providing this content? Content which is crafted and verified? Or actually is it better to empower citizen journalists, start-ups and local papers?
Very interested in hearing what you think about this.
I'm @ramaamultimedia."