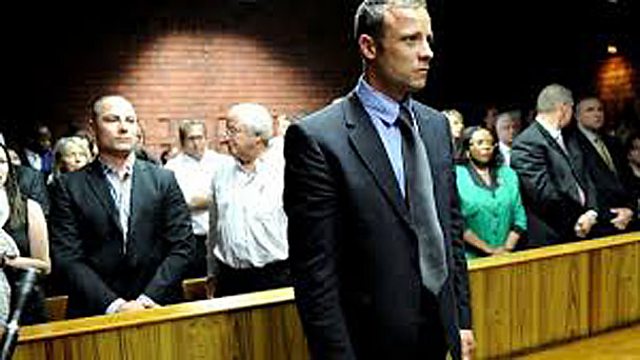 The truth is you never know what you are going to get when you embark on a fast turnaround. But it is also true that staying back at base agonising over whether or not to send guarantees a no-show: if you do not go, you never know.
It's little wonder that many avoid fast turnarounds like the plague. You are following the news and most often a current affairs issue is yet to emerge. And for at least two weeks you can forget about sleep or working on anything else. But for me a fast turnaround - or a 'crash' - can be the most exciting and daring form of television journalism.
For a start, you are usually working on a great story - one that has broken through the routine agenda to dominate the bulletins and capture the attention of those known in the parlance as 'news avoiders'. Something dramatic has happened: people are fascinated; they are talking about it; and - crucially - they want more information.
When BBC Three responded positively to my pitch for a fast turnaround on Oscar Pistorius it knew - because the TV news ratings said so - that this was a story gripping the attention of its key demographic: viewers aged 16-30. They had watched the London 2012 Paralympics and Olympics and witnessed the remarkable triumph of the man known as the Blade Runner, the gold-medal racer born without fully formed legs.
Now he was accused of the premeditated murder of his glamorous model girlfriend Reeva Steenkamp, whose TV career was about to launch with a reality show set in the Caribbean. She had been shot at least three times in Pistorius's house in the early hours of Valentine's Day. Pistorius admitted he fired the shots but said it was an accident; he had mistaken Reeva Steenkamp for an intruder.
The challenge, once commissioned, was to construct a system to deliver a compelling documentary. We had just over two weeks to scramble a team and send them to the other side of the world to make an hour of television from scratch.
Fortunately I was able to call on great colleagues who know how to make a fast turnaround. Nick London and I had made Superstorm USA: Caught on Camera for BBC Three last year. An old colleague from Newsnight and Panorama, and one of the best operators in the field, he boarded a flight to Johannesburg with Shekhar Bhatia, who'd worked with me on a Channel 4 Dispatches on the Anni Dewani murder case. He had first-class contacts in the South African police.
Our presenter was Rick Edwards. He had just started working on Mentorn Media's BBC Three debate show Free Speech and, as a presenter of Paralympics coverage on Channel 4, he was well aware of the global importance of Oscar Pistorius.
In South Africa, we recruited not in Johannesburg, the nearest big city to the scene, but in Cape Town, a two-hour flight away. That was where our brilliant team who worked on the Dewani documentary were based, and they knew all the short-cuts.
In double-quick time they booked interviews with close friends of both Oscar Pistorius and Reeva Steenkamp. We got the first and only TV interview with the forensic pathologist working for the defence, top-level exclusive briefings from the investigators, and found a famous South African sportsman who claimed on camera that Oscar Pistorius had recently threatened to "break my legs".
In London, graphics artist Paul Monaghan built a 3D model of the scene of the shooting, using plans of the house where Oscar Pistorius lived. Matt Ashton, who edited Superstorm USA in six days, was hired along with TV editor Stephen Prince. Together they crafted the film in a week.
Our edit producer was Thea Guest, another former Newsnight colleague. Our old programme has been in the news a lot lately and its reputation has taken a bit of a battering. Whatever its future, and I hope it has a good one, there is no place like it in television for preparing you for making fast turnarounds. We were all there in the days when editing a 10-to-12-minute film on the day was the norm.
Crucially for this film, we hit upon a quick a way of getting material from Johannesburg to London: a USB stick inserted into a camera records low-resolution files small enough to be uploaded on the internet. This didn't go quite as smoothly as we would have liked in the first few days, but eventually the system worked.
Production support staff at Mentorn Media, part of Tinopolis Group, booked facilities, brokered deals on archive - very expensive - and worked with the edit at Clear Cut, Hammersmith, to deliver the finished product, Oscar Pistorius: What Really Happened?
Mentorn's film is on BBC Three tonight at 9pm - transmitting 19 days after commission. Fast turnarounds just got faster.
Watch the programme on BBC iPlayer until 21 March.