Covering Typhoon Haiyan and its aftermath has challenged news teams in practical, personal and professional ways. Andrew Roy gives a snapshot of the challenges BBC journalists have faced in the Philippines this week: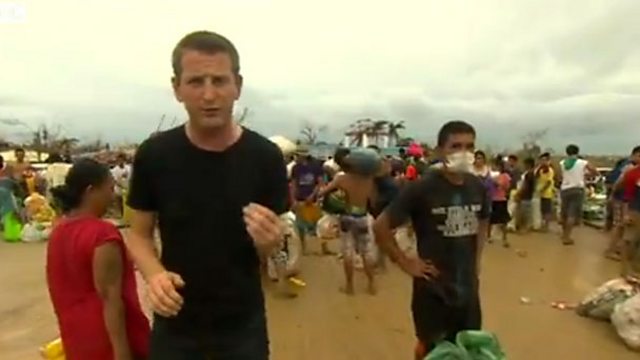 Unlike with the
Asian tsunami
, unlike the
Japanese earthquake
, we were able to put a team into the region before the storm hit the Philippines. We'd heard it was going to big.
So we had our correspondent Jon Donnison (above in Tacloban) in there and teams in China, Bangkok, Japan and Singapore on standby, ready to go in if things did develop. Jon held the fort brilliantly in the period before and during the storm, then we moved our other teams in fairly quickly, as well as Jo Floto, our bureau chief from Beijing.
It began as an operation in Manila, while we started to look at where else we would have to go in the country.
In the first few hours we hopped aid flights, flying to airports that were open then going overland. On a couple of occasions we chartered choppers to get us into really inaccessible places, including Tacloban.
From the start we had our own food, water, fuel and tents, because the assumption was that there would be nothing available. Our first people went in with what they could carry on their backs – a backpack of water, dry food, a carry-on generator, petrol. We are very careful to make sure we don't place any burden on aid agencies or rescue services. 
Journalists and crews have been sleeping in tents or under any shelter they can find from the torrential rain.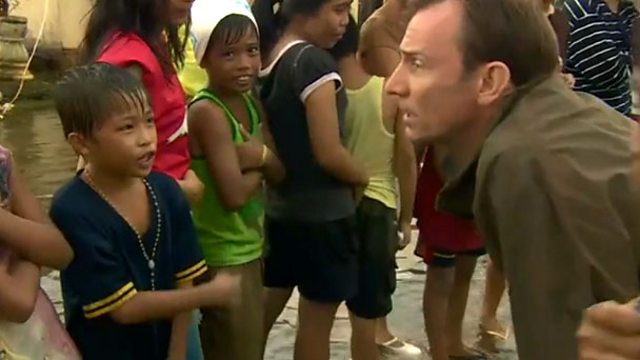 But power has been the real issue, and finding fuel for one generator has meant difficult 120-mile round trips. All communications have been by satellite phone and so we've been rationing communication time to conserve power in order to feed broadcast material out.
In terms of personal safety, we've avoided, where possible, the chance of being caught up in violence because of scavenging. We've certainly reported from the airports, where things are chaotic, but we haven't based ourselves there.
Keeping yourself healthy and all your systems going so you can file stories is very difficult in this kind of situation and so logistics have been a huge part of the operation.
In the last few days we have sent in extra food and water on flights we've chartered. Every team that has gone in has taken in fresh supplies. Now - seven days in - we're looking at road routes, as they open up. There's been the usual collaboration on the ground with other broadcasters, sharing charter flights with colleagues from ABC Australia and ABC America, for instance.
Covering humanitarian disaster inevitably throws up health issues such as contaminated water, so the teams have had to be extra cautious. They're living off packs of pre-cooked food, tins of tuna, beans, high protein stuff.
When the 3G signal started up again the other day, someone tweeted: "How do you do 12 hours of live broadcasting from Tacloban?" The answer, from our correspondent in the city Jonathan Head: "dried mango."
We've done a seven-day rotation of correspondents and teams because they're working in such difficult conditions, with very little sleep. As happened in reporting of the Asian tsunami and the Japan earthquake, the time difference means that our journalists are gathering news all day and reporting it all night.
The news packages they've produced have been very strong. And that's fairly remarkable when you're doing it from a tent that is your shelter, your edit suite, your live location and your transmission point - surrounded by body bags and appalling stench.
The Philippines has been smaller in scale than both the tsunami and the Japan quake, but conditions for news teams has been almost identical. It's like camping on the moon. Thankfully, unlike in the March 2011 disaster in Japan, we haven't had to contend with the cold as well.
There has been some extraordinary journalism and incredibly moving stories on both tv and radio from correspondents Jon Donnison, Jonathan Head, Rupert Wingfield-Hayes (above, with children in a Tacloban food queue), Alastair Leithhead, Andrew Harding (pictured below, reporting from a remote coastal village), George Alagiah and others.
The other remarkable thing about the last week is the way the population has wanted to interact with us - I think that's been evident in many of the interviews and stories broadcast. Hopefully, by being there, we have helped to draw attention to the plight of the country's people.