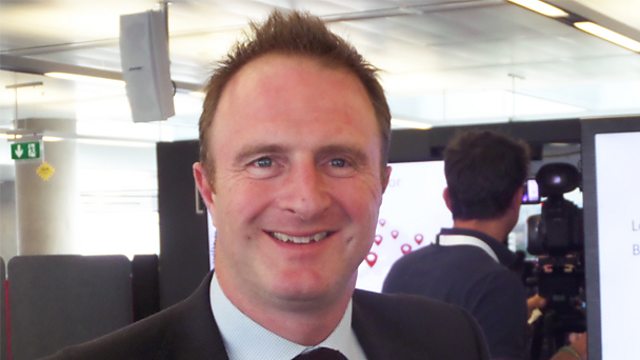 You'd expect a couple of themes to emerge from a BBC
conference on local journalism
to which newspapers, commercial television and hyperlocals had been invited: first, that local journalism is under threat and, second, that there's friction between the licence fee-funded BBC and those trying to scrape an honest living in the commercial world.
But neither theme figured much in the morning sessions of a conference already optimistically titled The Revival of Local Journalism. Instead, there was talk of new opportunities for more people to find a voice, the benefits of social media, and a new spirit of cooperation between the BBC and the rest of the media world.
The BBC's director of news and current affairs James Harding (above) dealt crisply with both kinds of pessimism in the first few minutes of his speech to the conference: "We may compete like cats in a sack for stories," he said of the BBC and commercial news organisations, "but, in the end, we have a common purpose. And, to my mind, the squabbles in recent years between the local press and the BBC are getting us all nowhere."
And on the health or otherwise of the sector as a whole, he talked about "what I genuinely believe is a revival in local journalism".
Lest any sceptics in the audience thought, as he put it, "I'm getting a bit rose-tinted", Harding outlined some concrete plans to support his theme. He'd asked David Holdsworth, controller of BBC English Regions, to lead a working group to examine such matters as "whether local news groups [could] provide certain programmes or information packages for use on the BBC's regional and local outlets in much the same way the independent TV sector delivers programmes for BBC Current Affairs." Maybe that could be done, in particular, for sports or court reporting.
Harding's optimism was echoed in the following panel.
David Coates of Newsquest thought this is "a great time to be a professional journalist". Michael Jermey, ITV director of news and current affairs, saw "lots of reasons for optimism" - despite, as he admitted, there being less money for original journalism and a lack of coverage of local council meetings.
When it came to relations with the BBC, even though Neil Benson of Trinity Mirror commented that the BBC does "distort the market to some extent", he believed that under James Harding there were now prospects for better collaboration.
It fell to Will Perrin, hyperlocal operator and head of Talk About Local, to voice thoughts that might spoil the atmosphere. Although he said that the 500-1,000 hyperlocal news operations had "added enormously to the news mix", he was sceptical about the BBC's open hand of friendship. "The BBC has a great tendency to operate in a closed way," he warned. And he'd heard "lots of warm words in BBC meetings over the years".
Harding had been careful not to downplay the potential difficulties in implementing changes that might lead to the better relations everyone seems to want: "To be clear, any innovations like this would need the regulatory approval of the BBC Trust; would have to adhere to the demanding requirements of the BBC's editorial guidelines; and would, above all, have to meet the needs of the BBC licence fee payer, who pays £145.50 each year and expects an independent, impartial and accurate news service."
From the conference floor, there was word that, however positive the message from the top of BBC News, those dealing with the BBC in its newsrooms found a less accommodating tone. David Holdsworth, for the BBC, admitted that change was "a little patchy".
For all that the impression this morning was that there's a new willingness to work things out between the BBC and the commercial sector, and that local journalism has a lot to look forward to - though exactly what, and how it will be paid for, remains to be seen.
More about the conference and its themes: 
Charles Miller: A thousand flowers bloom in local journalism: But how many will survive?
Richard Coulter: Why you can't sell local news and give it away at the same time?
William Perrin: Why doesn't the BBC let other people use its local output for free?
Jasper Westaway: Prosper in local news without predicting the future
The Revival of Local Journalism