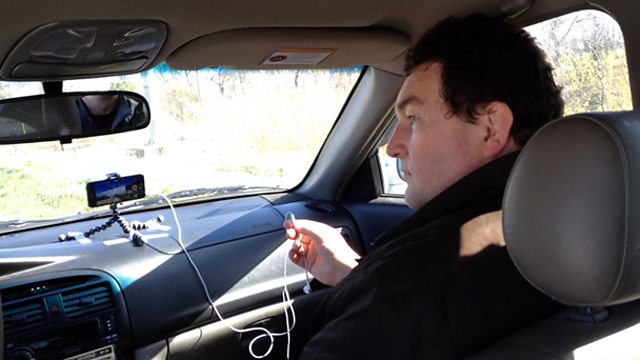 iPhone as dashcam being used by Patrick Jackson in Crimea
Is a smartphone, to paraphrase Norah Ephron, a hand grenade thrown into the marriage of traditional media? Judge for yourself.
Not sure if I was the guinea pig or the pioneer, but I like to think of it as sheer serendipity that a multimedia reporting trip I made to Crimea in March coincided with the BBC News website's decision to invest in mobile reporting kit. Basically, they were unwrapping the goodies as I was collecting my Hefat gear. What did I get? An iPhone with gadgets. Take a look at the gear being set out on my hotel bed in this Tumblr post I made on a later trip to the southern eurozone. To wit:
iPad
iPhone
Mophie rechargeable battery case
Rode SmartLav mic
Small Gorilla tripod
Olloclip lens
Nikon stills camera
Oh, and some gaffer tape for the tripod.
My brief on both trips was to deliver video-led features from the field while using social media to tell stories in new ways. In the past, a World Online journalist was expected to send in text features with stills via a laptop, often completing them back in London - like this feature I did from Kosovo in 2008.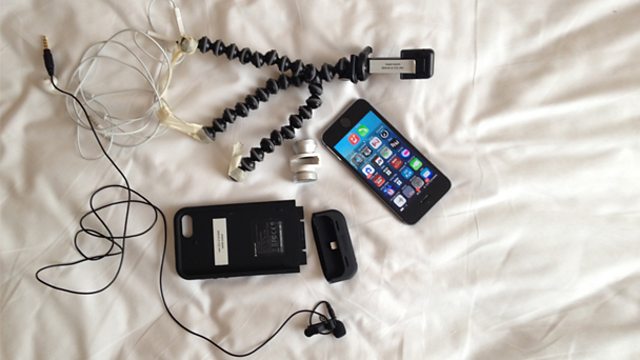 Patrick Jackson's mobile reporting kit for Crimea trip
Last year I broke new ground for myself with a solo trip to Germany for the elections. Taking an ancient but very likable
Sony A1 video camera
, I shot most of the video for my five reports, such as
this one
on a war veteran. Maybe the result is rough around the edges, but there really is nothing quite like the experience of doing your camerawork to a deadline. You never want to go back to text and picture. The drawback? Being weighed down with camera bag, stills camera bag and a full-length tripod.
I shed a couple of pounds on that trip, really! Being a big guy, I didn't mind the discomfort, but there was the constant worry about keeping track of so much kit. And of course while in Germany it doesn't matter if you stagger about laden with camera gear. In Crimea, in the middle of a historic upheaval, you really want to carry nothing more conspicuous than a phone in your hand.
The intimacy of mobile phone interviews has to be tried to be believed: you can walk up to someone in the street and get a valuable vox pop that a TV crew might otherwise scare away. A high point for me was getting Crimean Tatars in the divided city of Bakhchisarai to speak on referendum day. John Simpson's crew in the same town had failed to get anyone on camera that morning by the time we rolled up. After swapping phone numbers, I headed off with my fixer into the old city and got the goods from just wandering around alone with my hands in my pockets (I speak Russian) as my fixer waited in the car.
Within an hour or so I had uploaded the clips on to Jupiter via PNG and emailed the translation back. Job done - from a Tatar teahouse with wi-fi in Crimea. Another example of the smartphone's advantage: I used my iPhone to film discreetly inside a Spanish job centre on my following trip, pretending I was reading from the screen.
As for audio, the Rode mic delivers lovely quality. Getting good still photos with an iPhone can still be a challenge, especially in hazy weather somehow, so the Nikon was essential. But mobile journalism is so much more than the sum of its technical parts: it's the social media edge.
Using my Twitter and Tumblr accounts, I interviewed groups of people in real time, mixing in my own questions with questions from BBC News readers, with the help of social media colleagues back in London, who built them into website stories. How about Sunday lunch with voters in Crimea? Or dinner with jobless people in Seville? By the way, you can see here how I used the Olloclip lens to get eye-catching portraits in a hurry, or used a time-lapse app (iMotion HD) to capture the dinner from an iPhone mounted on a TV set.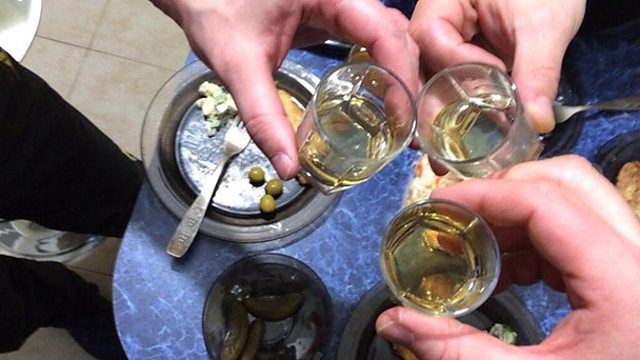 Patrick Jackson getting the atmosphere right for an intimate live tweet from Crimea
I blogged about my eurozone trip on Tumblr, posting
extra video clips
and
galleries of photos
- so easy to post from the field, even if there isn't space for them on the BBC website. Think what a journalist with a bit of training in editing apps could do with an official BBC Tumblr account.
In the eurozone, I was making my stories as I went along and Twitter was invaluable for newsgathering. I got the interviewees for this French feature, for instance, through fishing on Twitter. Amusingly, one of them turned the tables by interviewing me for his blog later.
Was it easy? Wi-fi is still the real challenge. Short of forking out on 3G (really not an option when you can't legally buy a local SIM card for your British corporate iPhone in countries like Spain - though this is not the case in Ukraine) you will struggle without a fast upload time. It's still not a priority for hotels, cafes and airports in Europe, and you will really feel it when you are pushed.
My last night in Greece was spent in a gamers' café in Thessaloniki purely because of the good connection. I got all my clips on to Jupiter and left at dawn, with this resulting feature. That said, there are people and institutions that are only too happy to let a BBC journalist use the wi-fi in their homes - a great help in Crimea, for instance.
Keeping on top of the apps can be a challenge too. My time-lapse of Seville's city hall clock at dawn was not to be. For all my crawling in the dust to line up the iPhone on the Gorilla tripod, when I bent down to pick it up half an hour later I found I hadn't hit the start button (I blame the plainclothes police who asked me what I was doing when I was just about to click). On the move, and working alone, you rarely get a second chance.
One last thing: the audience love it too. Tell someone you can produce a BBC News feature with a smartphone and their eyes light up. If the content lives up to BBC values, the idea that it was conjured out of a journalist's hand really clicks with the times, somehow. That said, one woman in Sevastopol got really offended when I produced my iPhone. It was "not serious" and "something teenagers would use". She was half right, I reckon.