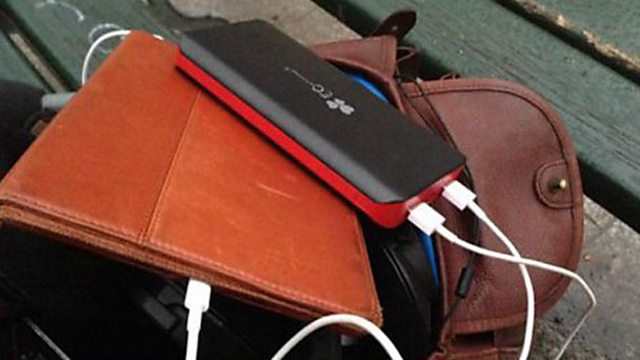 As a reporter on BBC Radio 5 live I normally cover 'a patch' – a geographical area that I'm responsible for. Mine is the North of England (where I was on Christmas Day, for instance, as part of the BBC News team covering the devastating floods across the region).
But this past year has been a bit different. I've been sent to cover some of the world's biggest news events – a journey that's taken me the equivalent of twice round the world, through almost 70 airport security checks, reporting on the deaths of thousands of men, women and children.

By travelling alone or with a single producer using the newest low-cost broadcasting kit I've been able to backpack around the world with a radio car in my rucksack (above).

The single most important thing I carry with me is my smartphone. But the days of using it just to call people are almost over. It acts as an audio and video recorder, a camera, a way of receiving information (email, text, internet-based information, audio and video footage) and sending it (text-based or audio files, video footage, still photographs). But it also allows me to broadcast live radio using VoIP (Voice over Internet Protocol) technology, which sounds very 'whizzy' but is just a way of using the internet to broadcast. Apps such as Viber, Skype, FaceTime, Google Hangouts, WhatsApp – and the one I use – Luci Live – all use it.
Nowadays you can even broadcast live television pictures and sound over your phone, as I did in Calais this summer when migrants tried to break into the Channel Tunnel during a strike by French ferry workers.

I would be foolish if I went to the other side of the world without a back-up plan, though. My back-up is a satellite transmitter the size of a large paperback book. It runs on batteries and allows me to broadcast live radio from anywhere in the world. It means I'm not restricted to working in areas with good phone signals.
In Tunisia, for example, where I was sent to cover the beach shootings that left 38 people dead, 30 of whom were British tourists, the phone networks were too slow to broadcast over, so a lot of the time I was using satellites to go live. It was the same in the Jordanian desert where I went to meet people crossing over from Syria as they became the world's newest refugees.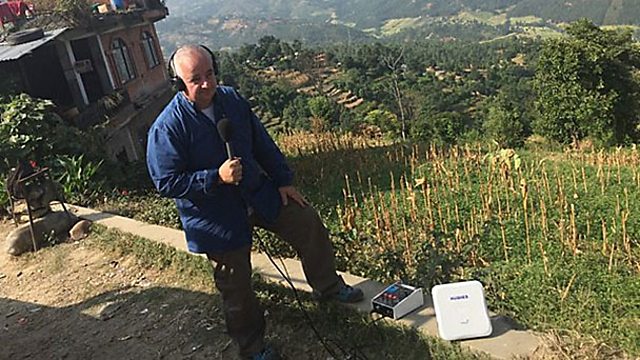 But you'd be surprised where you CAN get a good phone signal. In Nepal (above) after the earthquake had obliterated most of the houses in the Sindhupalchowk region I was able to broadcast live radio and stream live video pictures over the internet using a 3G mast that was still working. I'd had to carry my kit on my back, the 4x4 had struggled to get past landslides and collapsed roads – but the 3G mast was still operating!

The year, 2015, began and ended in Paris. In January I was sent there after the shootings at the offices of Charlie Hebdo. Because producer Sophie McDonnell and I were travelling with backpacks we were able to travel around Paris on public transport, rig the equipment in minutes and broadcast live from wherever we happened to be. In one day we broadcast live from Notre Dame, the Grand Mosque, the Eiffel Tower, the Place de la Republique, the scene of the shootings, the Hotel de Ville and in bars and cafes around the city.
It would have been impossible to move around as much as that if we'd been using traditional radio cars (although I'm a huge fan of them – the inviting smile of one of our engineers is a thing of great beauty when it's rainy and cold…).
The attacks of 13 November left 130 people dead and again, while traditional TV broadcast vans were struggling to work out how to get from one place to another, I was able to use the Paris Metro to travel around the city. When a police raid killed the ringleader of the gang responsible in St Denis I was broadcasting live on the radio when the security forces launched their final assault.
Working on your own means you have no-one to blame when things go wrong – it's your fault when you miscalculate the time difference (luckily I made the flight) and when you realise the last time you had a comfort break was 12 hours previously. But I'd be lying if I said there wasn't a sense of pride when you manage to get on air, despite the difficulties, and tell people what's happening at some of the huge events I've been sent to cover.

If attacks on cities and holidaymakers and civilians have been one of the major news events in the last 12 months then the other has been the refugee crisis. From the Syrian border, through Eastern Europe and beyond, I've followed people making a journey they say their lives depend on. After meeting them as they became the world's newest refugees, crossing the Jordanian border, I followed people's journeys as they travelled by sea across the Mediterranean. I was sent to Malta after a boat capsized off the Libyan coast killing up to 900 men, women and children. A handful of bodies were found and I watched their funerals, the coffins marked with a simple number in felt-tip pen – the only identification they had in death.

Others were luckier and survived the journey. In Budapest I met migrants from Syria and Eritrea as they struggled to make it to Western Europe. In Austria I went to the refugee camps they were stay in, queuing for hours at meal times.
It's been a privilege to cover these events. There are so many memories and my programme, looking back at my work in 2015 has reminded me of many key moments – from the performance of Mozart's Requiem in Paris to the man in Nepal who ran after me to give me back my credit card after I left it in a bank machine.
Very often my memories have been linked to the scents and the sounds around me. Jasmine in the heat of Tunisia and Jordan, cardamom in African and Middle Eastern coffee, undoubtedly the lilies in Paris and the incense candles burning at the places where people had died, and the hundreds of roses laid out in memory of migrants who drowned in the Mediterranean – some of them buried in Malta, most buried at sea.
Perhaps we're immune to the sight of terrible things. But the scents of life and death stay with you. I can remember them now. Some of them I wish I could forget.
Nick Garnett: Reporting Inside the Story will be rebroadcast on BBC Radio 5 live on 3 January, 11:00 GMT and is available on BBC iPlayer.
5 live In Short: Reporting Inside the Story
Our other blogs by Nick Garnett
Blogs by BBC smartphone reporting specialist Marc Settle
Smartphone broadcasting: 5 live's Nick Garnett