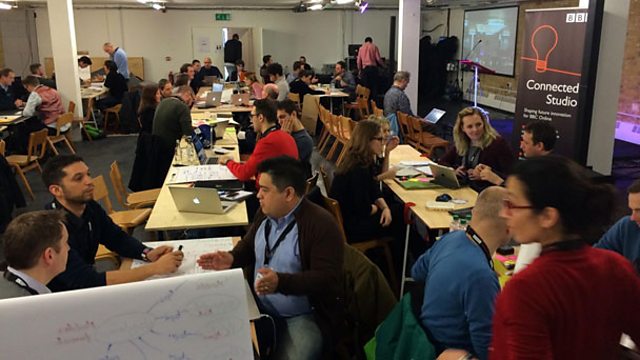 BBC Connected Studio event to explore use of BBC News Archive
I've got one of those jobs that it's just about impossible to describe in a snappy one-liner at a party or down the pub. But BBC News Labs is a pretty exciting place to work right now, so here's a snapshot of some of the things we're up to.
News Labs is made up of a team from across BBC News, collaborating with BBC R&D, other news organisations and academic institutions. We're part of the BBC Connected Studio's pan-BBC innovation programme.
How do we help BBC News? We're in the middle of several projects, using emerging formats and new technologies to help journalists do their job and open up fresh opportunities for the BBC. For instance:
Smarter storytelling with Storyline
Storyline is an open data model (free to use) which was authored in 2013 by my News Labs colleague and data architect Jeremy Tarling and collaborators from organisations like the Guardian, Press Association and Google. It's ambitious - visionary even - and aims to provide an effective future model for 'story-driven journalism'. We want our journalists' narratives to connect across the whole of the BBC - across all broadcast and online channels and our archive - as well as the wider internet.
In this context 'story' does not refer to a single article but more of a running story concept being covered on radio, TV, online and social media. There is a single 'identifier' for any one story across all media and properties.
The model is still in its first version, and BBC News online teams are in the first stages of implementing it on bbc.co.uk. Our news stories are currently spread across many articles, videos (on both BBC News and iPlayer), tweets, TV and radio programmes. The Storyline approach brings these all together - using a special kind of linked data tag for annotating and aggregating content - so that a user can find, enjoy, share and follow our news 'stories' more easily.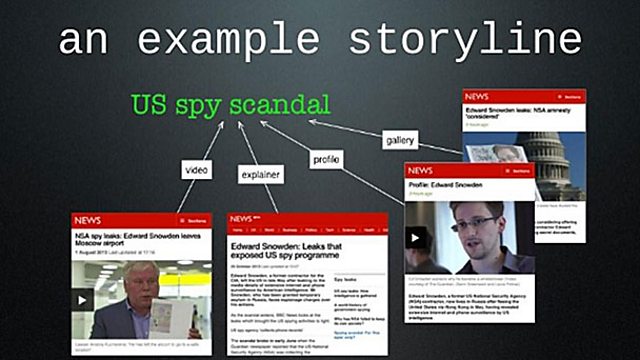 Example of BBC News Labs Storyline model, using US spying story
Examples of how it can work and what it can offer, such as with stories like the US spy scandal, the death of Nelson Mandela and 2013 Wimbledon Championships, are contained in this slideshow.
It will also be possible to have serendipitous journeys around BBC content, connected by the things of interest in each Storyline, without journalists needing to manually make each connection.
BBC News Labs and the BBC News Archive
Storyline is also being used to enable contextual connections with the BBC News Archive. BBC Online Archive editor Peter Rippon is working with the BBC's Connected Studio & News Labs to develop new prototypes to better exploit the archive for our audiences.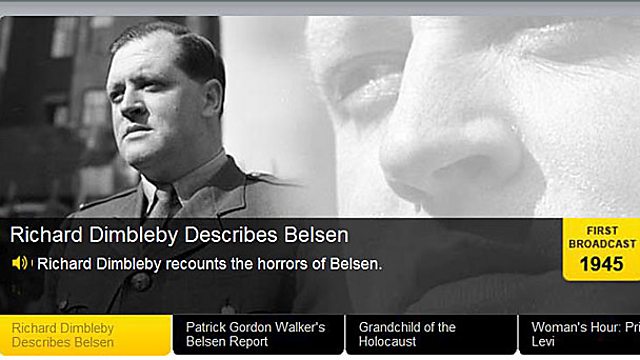 Richard Dimbleby's historic description of Belsen, from the BBC Online Archive
It's early days. But, given that we're talking about more than a million hours of News Archive content - each containing more than one story - and our budget constraints, we are using BBC R&D technology to automatically detect and record what the audio and video clips are about. (Briefly, software turns spoken words into text, then natural language processing engines discern the important words in the text and these are matched against our lists of smart, connected topics.)
This will enable journalists to find and weave these archive items into Storylines and bring that content to the attention of audiences.
'Window on the newsroom'
Otherwise known as 'WON', this is another of News Labs' prototypes which uses R&D technology and The Juicer - a News Labs semantic platform - to allow journalists see what the rest of BBC News is doing at any one time. It will enable them to find content in the main newsroom in London quickly, by topics and Storylines. We'll be testing the prototype over the next few months.
What next?
The biggest challenge we're tackling for both BBC journalists and our audience users is this:
as we increasingly liberate, contextualise and connect our millions of content items, how do users find the pieces of content that are most relevant to them and have the best possible journey from one to the next? Watch this space.
Get involved with News Labs
Following the success of our #newsHACK industry event last October we're planning #newsHACK II this April, with the focus likely to be on 'the next generation of news curation'. We'll be bringing along the latest News Labs technologies together with a suite of open data from the BBC and its partners.
Follow News Labs on Twitter for the latest information on that, or check the BBC Connected Studio event pages.
Internet blogs by Matt Shearer