Continuing our series about people who have taken different routes into journalism, former paediatrician Smitha Mundasad admits that friends sometimes think she's mad to have made the transition from medicine to broadcasting. So far she has no regrets: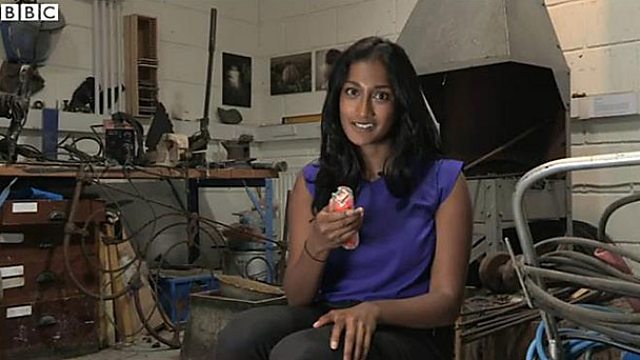 As far back as I can remember my head was buried in a book, gobbling up tales of new worlds without pause - or I was watching the news wide-eyed as Huw Edwards introduced lives and places that were new to me. I always knew I wanted to be a journalist.
But, coming from a tribe of doctors, another universe tugged at me steadily. Mealtimes and most times were spent chatting about patients, intricate operations and saving lives. From a very early age I had a keen fascination with the mechanics of the human body and a desire to know how to fix it. One of the first things I learned to draw was an (almost) anatomically correct cross-section of the eye. My primary school teachers didn't recognise it, but my dad was very proud.
Deciding between the two paths was very difficult. But after endless deliberation I took my parents' well-founded and unyielding advice about the indescribable process of being a doctor and helping people.
Having qualified and worked both in the UK and abroad I realised my parents were right. There is absolutely nothing else like medicine, and I really enjoyed it. I was lucky enough to secure a seven-year contract working as a paediatrician in London.
But I always wondered if in some way I'd taken the easier route for me. I'm at risk of being misinterpreted here - the skills needed, the harsh realities of many of the lives of the people you meet, the sacrifices made and the emotions invested and involved in medicine can make it a very difficult job at the best of times. But I knew I'd taken the road more familiar and less scary to me at the age of 18. And I was missing the way the world feels so vast when surrounded by news. I wondered what could be.
When I stumbled across the BBC Journalism Trainee Scheme I had to give it a go. It was incredible to be taught tricks of the trade by people I had until then only met in 2D.
And I've been at the BBC ever since. I have had the chance to work in lots of different parts of the organisation - from writing for the BBC News website to reporting on World Service radio programmes, and even coming up with an idea for the BBC Two children's science series Curious Cat.
I now work with the health and science newsgathering team as a health reporter and video journalist. This involves finding new stories and reporting on health in the satisfyingly wide sense of the word - for radio, television and online. I am lucky enough to have brought both my worlds together.
My medical degree and the time spent navigating the maze of the NHS and other global health systems has definitely helped me day to day. After years of learning about them at university I am no stranger to critiquing medical research papers, and having heard medical jargon all my life I am somewhat practiced at decoding it. Though it is nice to no longer have to do this at the dinner table. And of course I have a huge wealth of contacts, friends and teachers I can call on, and frequently do.
But most of all I remember the questions patients and relatives ask in accident and emergency, intensive care or when their children are admitted to the ward. Some about why illnesses befall us; some about why the health system is sometimes wonderful and sometimes fails us. And I hope these experiences help drive me to ask the right questions at work.
It was a scary transition though. Leaving behind a world I knew quite well, and a satisfying job with that rare thing called security, was not easy. I still have people asking me if I am mad for making this choice.
At the moment journalism certainly looks like a difficult field to get into without previous experience to draw on. It was definitely a smoother transition for me knowing I have another career I love and a journalistic specialism I am very passionate about.
Only time will tell whether the buzz of the broadcasting bubble will one day burst and leave me wishing I was still travelling the world with stethoscope in hand. But one thing is for sure: I'm truly glad I am trying my hand at it and I haven't looked back.
Getting into journalism: Just go out and do it, says VICE maverick Tim Pool
How to become a BBC journalist
BBC director general Tony Hall announces new apprenticeship schemes