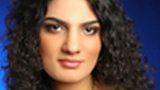 Ramaa Sharma
is a multimedia journalism and production trainer for the BBC College of Journalism International. Twitter: @ramaamultimedia,
Blog posts in total 3
Posts
A Google Plus Hangout is a video conferencing facility within the Google+ platform.

The private/professional identity conundrum has been knocking around the social media sphere for some time.

Rusbridger described the social media/online/collaborative world as an "open media" construct.