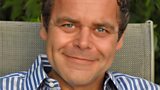 Glenn Kinsey
is a media interview, presentation skills and presenter coach and chief executive of the Pozitiv Group,
Blog posts in total 2
Posts
Rather than Incredible Hulk, the recent irritable appearances by the Deputy Prime Minister have been more Incredible Sulk.

If we look at the content of what he said, on the face of it he delivered a strong defence of everything from his now infamous apology over tuition fees to the party's push for a wealth tax. But were listeners left feeling he was more honest as a result? I'm not so sure.