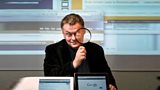 Henk van Ess
teaches internet research, social media and multimedia. Current projects include 'fact-checking the web' and data journalism. Twitter: @henkvaness
Blog posts in total 3
Posts
Here are some strategic tips and tools for digitising three of the most asked questions in journalism: who, where and when?

Even if people are discreet about their professional activities on Twitter, journalists can spot patterns of activity using private Twitter lists. 

By doing some background research the false stories about the Pope and the former Argentine dictator could have been avoided. Had proper fact-checking taken place online this story would not have been written in the first place.