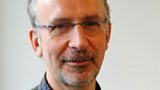 Bernard Gabony
is lead multimedia trainer, BBC News,
Blog posts in total 2
Posts
There are stories where the photos make the difference between an interesting yarn and something so compelling that you want to share it online.

The eurozone doesn't excite me. But the opening sentence here did (sad but true): "Tough rules for the eurozone, aimed at averting another financial crisis, have been agreed at an EU leader's summit." Why? Because it would have been so easy to write it in the active and start with a boring ...