This article was originally published on 18 May 2012.
To mark Children's Hospice Week, we want to tell you about some of the families who are supported by the 11 children's hospices currently receiving grants from BBC Children in Need.
Whether a child has been diagnosed with a long-term illness, was born with a particular medical condition or whether their medical needs are such that they need 24-hour support, children's hospices can help. They're also there with expert guidance if parents need to prepare themselves for the premature end to their child's life.
The name 'hospice' might make you think that the building is a hospital for children with long term illnesses. But children's hospices aren't clinical and austere.
Places like Rainbows Children's Hospice in Loughborough; Claire House on The Wirral; Little Havens in Essex and Acorns in Worcester are bright, colourful places that enable children with conditions like muscular dystrophy, cystic fibrosis, heart conditions, arthritis and many other needs to maximise the amount of fun they have during their shortened lives. There's also a specialist hospice for babies at Zoe's Place in Coventry.
So much thought has gone into the design of these buildings, from the cartoon or fairy tale paintings on the walls to the sensory gardens, outdoor play areas that are especially adapted with swings and roundabouts for wheelchair users and, in Rainbows case, the patterns on the floor that enable a visually impaired child to have the independence to find their way from A to B.
But another children's hospice - Noah's Ark in North London - doesn't have a physical building at all. It offers support to families in their community and in their homes. There, our grant pays for the organisation to run sibling support groups so that the brothers and sisters of very poorly children don't get left out.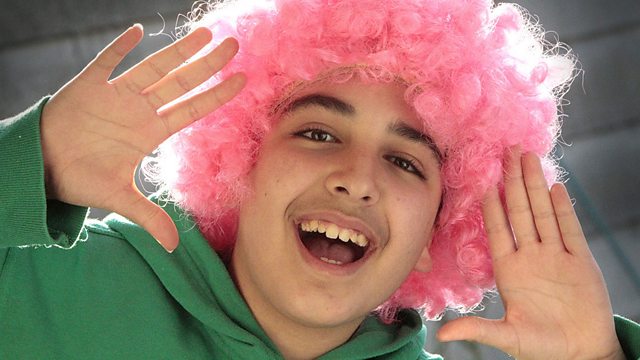 Guray enjoys a day out with the Sibling Support Group at Noah's Ark in North London
After many months of accompanying a sibling on hospital visits or being stuck at home because the family is unable to venture far because their child is so sick, Noah's Ark arranges outings and events so that the brothers and sisters of poorly children can still have a childhood themselves. Crucially, they also get to meet other children in a similar situation to themselves.
12 year-old Guray (pictured above) is one of those siblings. When his younger brother was diagnosed with a rare kidney cancer, he was poorly for months. While he worried about Emre, Guray also got very bored.
There were endless trips to hospital, long spells at home doing his homework and not being able to play with his brother because he was too fragile. Then he had to go to school while his brother stayed at home. All this made Guray anxious and upset. Fortunately, Emre got better and is now back at school, living life to the full despite having only one kidney.
ADVICE AND SUPPORT
All children's hospices provide families with expert advice, support and choice. One family, faced with the unbearable reality that their child won't survive into adulthood, might want the support to enable them to look after their child in the familiar surroundings of their own home, during their last days or weeks.
Another family might be comforted by the fact that staff at hospices can provide the expertise to cater for their child's particular medical needs in tailor-made surroundings, with a wide range of spiritual and religious needs met too. They might not want their child to spend her last days at home in case a certain room is forever associated with painful memories.
Hospice staff are experienced at planning funerals, prompting families to collect keep-sakes like a lock of their child's hair or a set of handprints of all the family to treasure - things that in the days surrounding immediate grief, you might be too upset to think about. Fortunately, organisations exist that deal with death every day and make living a shorter life extra special.
Many of these organisations have incredible facilities but an awful lot of energy, effort and generosity has gone into the four-year-long campaigns to raise funds to pay for those facilities, costing upwards of £4 million. And, depending on the local authorities' priorities, children's hospices might only get a tiny proportion of their funding from the state. They're heavily reliant on an army of volunteers - 600 or more at Little Havens in Essex -as well as benefactors and charitable donations.
So on behalf of the organisations we fund and the families they support, thank you for all the money you've raised for BBC Children in Need.