BBC Children in Need is thrilled and delighted to announce that children from one of the projects we fund will have an important role in tonight's London 2012 Olympics Opening Ceremony!
As you probably already know, film director Danny Boyle (Slumdog Millionaire, Trainspotting etc) is the Artistic Director of the Opening Ceremony, and although most of his plans must stay top secret until 9pm tonight (Friday 27 July), we're allowed to give away a tiny hint...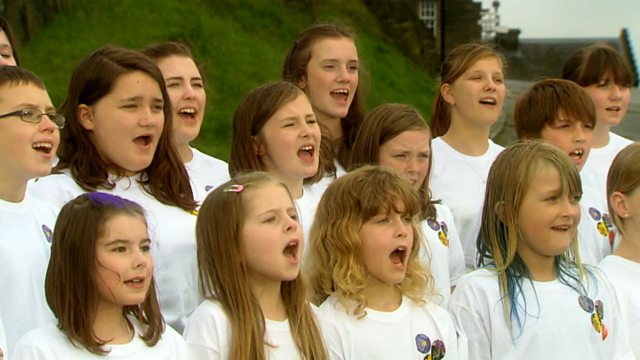 Children from The Big Project singing 'Flower of Scotland'
Children from "The Big Project" in Broomhouse, Edinburgh, have recorded a video of them singing "Flower of Scotland" on the ramparts of Edinburgh Castle. The video, featuring 53 members of the group, will form part of a medley of four songs representing the Home Nations.
The Big Project is a scheme set up to increase the motivation, self-esteem and confidence of children and young people living in Broomhouse in Edinburgh, by providing activities and trips along with residential breaks and individual youth support.
BBC Children in Need has funded this project for several years - they're currently receiving a 3-year grant of just over £100,000, which is to pay for the salary and associated costs of a full-time Youth and Children's Worker."
It was a wonderful experience for all involved. Although it was all so unexpected and a bit of a whirlwind, I don't think there could have been a better end result for our choir!" said Sascha Macleod, Project Manager at The Big Project. "Of course it wouldn't be happenning without your funding of [our Youth and Children's Worker] as she is an integral part of it all."
Here at BBC Children in Need, we're incredibly proud that one of the projects we support was chosen to participate in tonight's Olympic Opening Ceremony. We'll all be settling down at 9pm to watch the kids from The Big Project and the other 10,000 volunteers who've given up their free time to rehearse and participate in the big show.
We'd also like to wish all of the athletes, officials, volunteers and visitors to London a fantastic, fun-filled and successful Olympic Games. And (being a bit biased just for a moment)... COME ON, TEAM GB!