April is Autism Awareness Month, so we're focusing on two projects in Manchester that work with autistic children and young people - and both projects receive grants from BBC Children in Need.
Since 2007, your donations have gone to support the Greater Manchester Riding for the Disabled Association (GMRDA), which provides riding facilities for children and young people with disabilities to help build self-esteem, confidence and improve posture.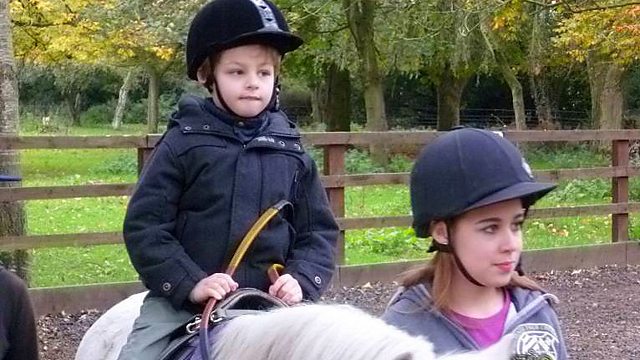 Bobby riding a horse at GMRDA
Two children who have benefited from the BBC Children in Need funding are 9-year-old twins Bobby and Alec, who both have autism. Their improvement has been remarkable and in the three years they've been attending the GMRDA, the twins' confidence co-ordination and balance has noticeably approved.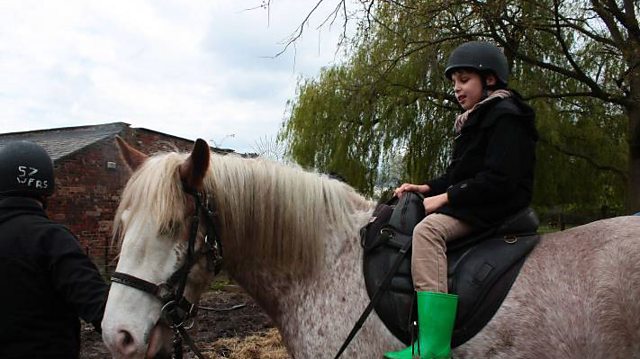 Bobby's brother Alec also visits GMRDA
Because riding a horse is unstable, it improves riders' core muscles and balance - and their Mum Debby says that to see the boys riding is brilliant.
It's also helped Alec to overcome the serious injuries he sustained when he crawled through a bedroom window when he was just two years old, falling twenty feet to the ground. He was in a coma for six weeks, and when he woke up he couldn't move.
Debby added: "It was like the slate was wiped clean. He had to re-learn everything as well as deal with autism. Both the volunteers and horses at GMRDA are unbelievably patient and caring. We are so lucky to have an affordable therapy like this on our doorstep that gives both our sons loads of fun as well as helping them therapeutically. They do a fantastic job."
Another project that's just received a grant from BBC Children in Need is Autistic Society Greater Manchester. They've been awarded a three year grant of £110,013 to run youth clubs during the school holidays to provide inclusive activities for children and young people with autism.
We're only able to support amazing projects like these thanks to the generosity of the British public. On their behalf - thank you.
Who You Help: other projects in the North of England