Pudsey and Blush have been re-designed for 2012
This year BBC Children in Need has so many brilliant products for you to buy and show your support for Pudsey, there really is no excuse for not getting into the spotty spirit and having fun.
Here at Pudsey Towers we're particularly excited by our all new, re-designed 2012 plush Pudsey and Blush bears (pictured). You can now get your hands on these limited edition teddys, with newly spotty bandanas and paws, in both standard and giant sizes. These cuddly, collectables are sure to be snapped up quickly, so you better hurry.
Other new items for 2012 include the rather snazzy 'tiffany' style keyring, a foldaway shopper bag that will brighten up any trip to the shops and a retractable pencil set that will make the kids homework miles more fun. There are also brilliant spotty t-shirts, neon wristbands and Pudsey and Blush ears - ideal for when your out fundraising. In fact there are so many great gift ideas it's impossible to list them here, so make sure you visit our official online shop and take a look for yourself.
But that's not all! Thanks to our corporate partners, you can help BBC Children in Need when you visit your local high street or supermarket:
Our friends at ASDA are selling loads of amazing stuff for us, including a range of cool adult t-shirts and a rather lovely spotty umbrella (pictured) to keep you dry in the wet autumn weather, make sure you visit their shop page to have a look at all the great products they have on offer.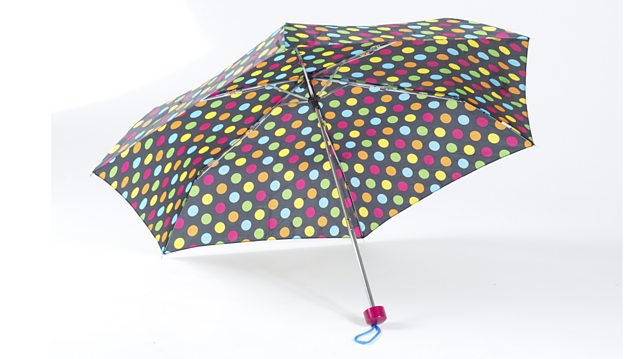 Asda will stock this fetching spotty umbrella
And if you're feeling peckish, why not pop into Greggs for some delicious Pudsey themed treats. You can get a very tasty giant gingerbread Pudsey (pictured) as well as Pudsey and Blush cupcakes safe in the knowledge that as you enjoy them, you're also doing your bit to help.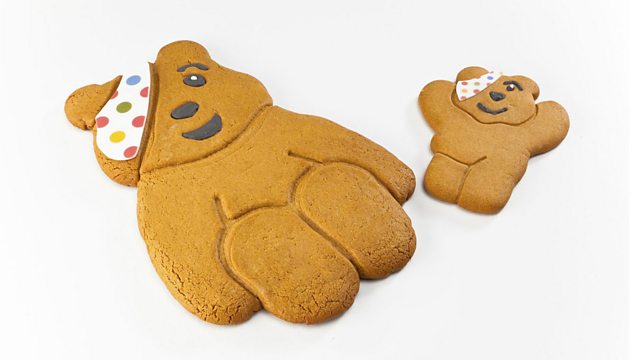 Greggs are selling two sizes of gingerbread Pudseys
Boots will be selling some rather gorgeous sparkly Pudsey and Blush badges (pictured) for us, so if you're looking for a nice gift for someone, or you just fancy adding a bit of glamour to your outfit make sure you get buy one early.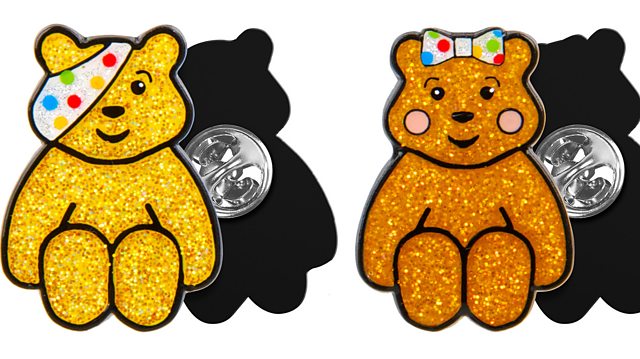 Boots will be selling glittery badges for BBC Children in Need
Next time you have to pop to B&Q to pick-up some DIY supplies, make sure you have a look at all the wonderful BBC Children in Need items they have in store. No home should be without a couple of Pudsey cushions (pictured) or a spotty dustpan and brush, make sure you have a look at all the great products on their shop page.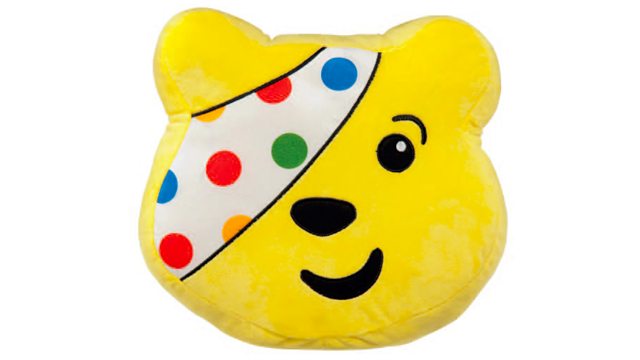 A Pudsey cushion
And if you're having your very own cake sale to fundraise for BBC Children in Need, the brilliant people at Lakeland have plenty of products to help you, including Pudsey baking and cupcake kits.
There are plenty more ways for you to contribute while you shop, the kind people at Lindt will be selling gold chocolate bears online to help raise money for the Appeal, whilst jewellery designers Theo Fennel have two beautiful exclusive BBC Children in Need friendship bracelets in their collection.
If you've ever fancied creating your very own Pudsey or Blush, then you must get to the Build-a-Bear Workshop, they have a range of BBC Children in Need bears to build and dress in very special spotty outfits. Talking of building, kids favourite Lego have a cute Lego version of Pudsey in stock.
WH Smiths will be stocking BBC Children in Need Christmas cards and a special advent calendar, whilst Hobby Craft will be selling a BBC Children in Need cross stitch set.
There really is something in the shops for everyone, so make sure you get out there, or go online and shop to show your spots for Pudsey.