Last weekend, some 20,000 festival-goers descended on Laverstoke Park Farm, Overton, Hampshire for the first of this year's two CarFest events. And boy, did they have an amazing time!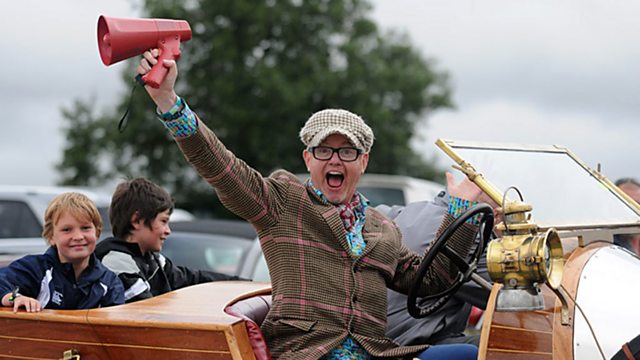 Chris Evans arrives at CarFest South in Chitty Chitty Bang Bang
As I'm sure you already know, CarFest was dreamt up by Radio 2 DJ and all-round good egg Chris Evans, as a fun and exciting way of raising lots of money for BBC Children in Need. And the results - well, they're way beyond even our wildest of expectations.
In fact, it was only five months ago that Chris came up with the idea for CarFest - a two-day family-friendly festival combining high-octane action from an amazing array of racing, classic and supercars, fabulous food plus live music from top bands. And right now we're only just over a week away for this year's second spectacular CarFest event, CarFest North - to be held over the weekend of 8/9 September at Cholmondeley Castle in Cheshire.
"CarFest South done and dusted. And absolutely brilliant!" said Chris this week. 
"Historic fly-pasts overhead, aerobatic displays from The RN and The Blades and The RAF Red Arrows, more fab live music than might be good for one person and the thousands of kids present self-policing the event. It was awesome.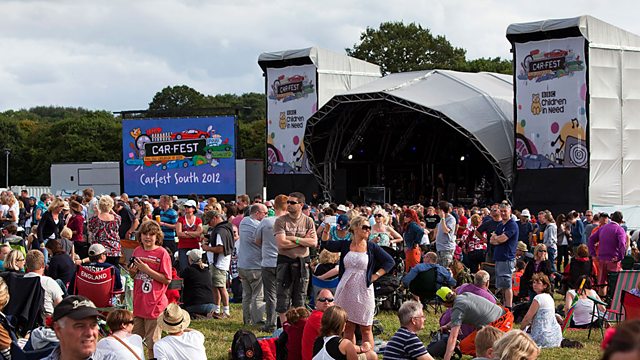 CarFest South 2012
Thank you to the local council, the local constabulary and all those wonderful Overtonians who came along and joined in the fun. And fun that thus far has raised at least £750,000 for BBC Children In Need. I say! We'll done everyone – now bring on CarFest North!"
CARFEST NORTH - 8/9 SEPTEMBER
The packed line-up of exciting events taking place at CarFest North includes:
MUSIC: Texas, Paloma Faith, The Proclaimers, Counterfeit Stones, Razorlight, The Magic Numbers, Merrymouth and Ultimate Eagles
CARS: Chris's own 'Magnificent 7' Ferraris, European Supercars, US Supercars, Far East Supercars, Motorsport, 7 cars worth £1million, Anniversaries, Group B Rally Cars, Historic F1s, Vintage, Celebrities' cars, Design Classics, Gorgeous and Unusual Collection.
FOOD & FAMILY: Fabulous organic festival food from a wide range of local and national suppliers, the legendary Cakes vs Pies competition, judged by Mary Berry and Paul Hollywood from The Great British Bake-Off, Air Displays, Arena Shows, Hot Air Balloons, Jousting, Fireworks and much much more...
A small number of tickets for CarFest North are still available. Get tickets NOW
Did you go to CarFest South? Why not tell us all about your experiences by leaving a comment below!  Or are you looking forward to CarFest North? What part of the event are you most excited about. Let us know!