Lately we've been all over the UK over searching for fundraising heroes, and we're reaching our final few stops. This week we're visiting the North East, and with our 2013 campaign well under way things are getting busier and busier! As usual we've seen some exciting fundraising from the very heroic Great British public, and we've chosen a few stories to share with you.
Our first heroes are the York-based vocal group Harmonix. Group member Annette Valentine got in touch to tell us about a fundraising concert Harmonix are holding in aid of BBC Children in Need. Performing an eclectic mix of songs from Abba to Adele, Harmonix are held in high esteem throughout York for their beautiful vocal harmonies. In the concert, taking place on Friday 22 November, the group will be accompanied by Union Central, a York-based americana-influence band, at the Lidgett Grove Methodist Church in Acomb, for a night of sensationa music! If you'd like more details about how you can get down to the concert for a #songanddance to the sweet sounds of the Harmonix and Union Centre, keep an eye on the group's facebook page.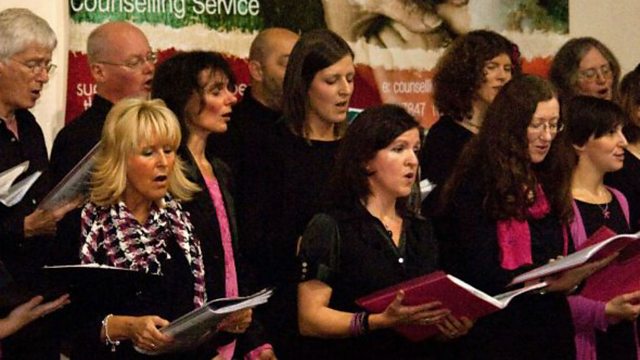 Harmonix are known for their beautiful vocal harmonies.
As part of our 2013 campaign, we've been urging fundraisers to undertake 'Challenges for Champions', and we're glad to see one group from Tyne and Wear who really took the challenge to heart. Jonathan Robison, Adrian Mitchison, Michael Irwin, Alexander Sklikas, Roger Burkill, Ryan Cunningham, and Billy Taylor all got together to attempt the National Three Peaks Challenge. The team triumphantly conquered Ben Nevis, Scafell Pike and Mount Snowden, raising a huge £3,095.00 along the way. Heroic stuff!
2013 is shaping up to be a very musical year for BBC Children in Need; we've heard from many talented fundraisers telling us about about their musical fundraising adventures. One of these heroes is Junior Turner, a rising singer from Newcastle Upon Tyne who's recorded a cover of the classic 'The Impossible Dream' for BBC Children in Need. Junior's been getting out there and giving up his time for us, and by doing so he's been helping to change the lives of children and young people all over the UK, so we think he definitely deserves the title of a fundraising hero!
There's lots more going on, too. Isobel Johnson emailed to tell us about a coffee and cakes morning she's been holding today, Wednesday 25 September. There's nothing better than to get together and #bakeit for a good cause, so we hope Isobel and her guests have a great time.
Jordan Kemp from Scarborough also got in touch to let us know that he'll be doing a charity bike ride on Saturday 2 November – thanks Jordan, let us know how you get on!
A gigantic thank you to our heroes – every donation helps children and young people right here in the UK. If you're currently organising your heroic fundraising for this year, let us know! Just email your local address on this page to tell us what you're up to. You can also get in touch by following us on Twitter, tagging @BBCCiN, and using our campaign hashtag, #beahero. We're also on Facebook. We can help you to promote your fundraising events and maybe, just maybe, you could be a BBC Children in Need Fundraising Hero!