Disability Awareness Day - Meet Ethan & Graham from BIBIC
Today is Disability Awareness Day (Monday 15 July). 200 babies are born each week with a disability. Doctors describe someone with a disability as having an 'impairment' which makes it hard for them to do day-to-day things.  But many people say it's not someone's impairment that stops them from doing things.  It's because society isn't set up to include disabled people.  For example, some places aren't easy for wheelchair users to get into because there are so many steps or because the disabled changing rooms aren't big enough to accommodate their motorised wheelchair. 
We wanted to highlight how your money is helping children and young people with disabilities, children such as Ethan.  BBC CiN currently funds around 580 projects reaching approximately 130,000 disabled children and young people.  One of those projects is BIBIC in Somerset.
Ethan was four days old when he had his first seizure.  It was a frightening time for his parents, who didn't know what the jerky movements were.  They mentioned them to a doctor at a routine appointment and the doctor was concerned.  His mum, Naomi, stayed at hospital with him while he had numerous tests and scans. Naomi worried that she'd never leave hospital with her son in her arms.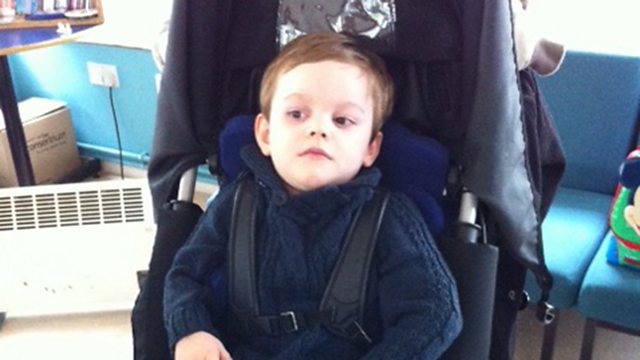 Ethan receives support from a therapist funded by BBC Children in Need at BIBIC
She said: "It was the worst feeling in the world to see my new-born baby going through all this pain and suffering.  This was the time we were supposed to be excited that after nine long months of waiting, our precious baby was here."
The seizures continued – sometimes Ethan had 15 a day – and he began to lose the skills he had gained in the early days, like the ability to smile and focus on his parents and objects around him.  It was heart-breaking.  By 18 months, his seizures were more controlled and he was only having a few a week. 
A few days before his second birthday, genetic tests showed that he had the condition ARX – aristaless related homeobox.  This causes epilepsy and affects development.  His mum and dad were upset to be told he would have the condition for the rest of his life but they were determined to make that a full and happy time.  Naomi asked around and a friend told her about an organisation called BIBIC in Somerset.   She read some of the stories on their website and arranged an appointment.  She met an experienced therapist, whose position is funded by a grant from BBC Children in Need.
The therapist observed that Ethan, who was then nearly two, couldn't support his own head, his hands were bunched into fists and his development was delayed in all areas.  But he loved listening to nursery rhymes, he paid attention to various lights in the sensory room and make loud noises to show that he wanted an activity repeated.  He loved rough and tumble play and would giggle infectiously when he was swung around in his dad's arms.
The therapist drew up a regime of exercises and activities for Ethan to practice for half an hour every day and Naomi and her family carried out the new 'workout' routine methodically – often involving Ethan's grandparents if they were looking after him for the day.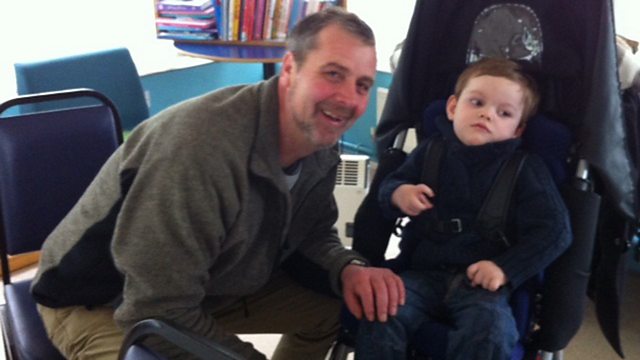 Graham's role is funded by BBC Children in Need to help support children like Ethan
Within four months, Naomi could see a difference in Ethan's mobility.  Instead of having closed fists, he was more relaxed.  He started to be able to control his head and hands.  After playing with sensory toys, he could now open his hand and grasp objects for a short while.  He relearnt to lift his head after playing while lying on his tummy on a sloping board.  He could make a wider range of noises and stand with support.
Naomi was delighted to see her son progress and said: "I am over the moon that I can help my little man to finally start to develop.  Who knows, I might even see him sit up or walk in the future."
Ethan's programme is continually revised and new goals are set as he grows older.  A two-year grant of £68,848 contributes towards the salary of full-time therapist Graham Valentine at BIBIC so he can set up a personal development programme for children like Ethan, to enable them to reach their full potential and enjoy the world around them. 
To find out more about how your money makes a difference to children and young people all across the UK, please visit our Who You Help section.