As the 2013 BBC Children in Need Appeal creeps ever closer, we're beginning to see some outstanding events throughout the country from keen fundraisers eager to get started and do their bit for BBC Children in Need. As we've come to expect, this week's tour of the South West uncovered some very eclectic fundraising activity, and we've chosen a few who really stood out.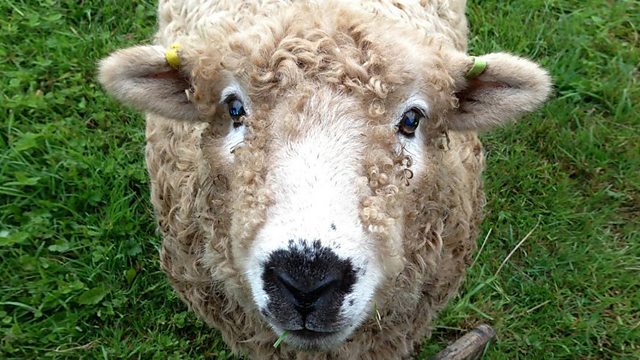 Sheep, celebrity and Fundraising Superstar: Bobby takes a break from his busy schedule
Perhaps the most unexpected character we came across was Bobby, a rare Greyface Dartmoor sheep from Somerset. Although Bobby lives a busy life on his farm, he's also managed to find time to become the star of a series of books! Written by Bobby's owner Enid Barnfield, the Bobby Our Sheep series of books recount some of Bobby's many adventures since he arrived on the farm. The books are sold here in aid of BBC Children in Need and look set to be a big hit with younger audiences. It's good to see a simple sheep really get into the fundraising spirit!
Spirit Explorers are joining Pudsey for a spooky evening in November
And talking of spirits, we've caught work of a Berkshire group embarking on a very special paranormal investigation. Spirit Explorers is a popular ghost-hunting group who visit haunted hot spots all over the UK looking for a glimpse of something ghostly, and on Friday 15 November they'll be visiting the infamous Hellfire Caves in High Wycombe for Pudsey's Paranormal Pursuit -all profits from the event will be donated to BBC Children in Need. As well as ghost hunting and some spooky challenges (a lone vigil in the Inner Temple 200 feet below ground!) there will also be a raffle and a chance to meet and swap stories with other enthusiasts. If you're over 18 and have a taste for terror you can book on to the event via Spirit Explorers JustGiving page.
Finally, we want to say a huge thank you to Simon Walker and his team of fundraising superstars from the Air Division at QinetiQ in Salisbury. Simon and the team have raised a huge £3648 through a variety of events such as cake sales, barbecues, auctions, Friday ice cream runs and more. From the sounds of it everyone involved had a great time and deserves a big congratulations for donating such an impressive amount!
A huge thank you to everyone getting involved this year – every donation will help support children and young people right here in the UK. If you've been fundraising or you're currently working on your genius plan, get in touch! Just email your local address on this page to tell us what you're up to. You can also get in touch on Twitter by following us and tagging @BBCCiN. We can help you to promote your fundraising and perhaps you could be the next BBC Children in Need fundraising superstar!