BBC Children in Need is proud to fund the juniors at the St Andrew's Club in Westminster. It claims to be 'the oldest youth club in the world' and we're inclined to believe them, having been founded on St Andrew's Day in 1866, originally as a home and club for apprentice boys needing somewhere to live.
Although the club sits in the shadow of the grandiose Westminster Abbey, the ward is one of the most deprived in London. The St Andrew's Club provides a warm, safe environment for children to play and is clearly appealing to everyone, with over 850 members on their books. A stone's throw from Parliament, the thriving club is bursting with children taking part in endless activities – from archery to music production, cookery to chess, capoeira to fashion, karate to health and beauty courses and all of this in addition to the seven football teams on offer!
John Stanghon and some of the children modelling their Easter Bonnets
The club is the local community's central hub which has seen generations of families attending, firstly as children, then becoming volunteers and finally ending up as staff. Everyone who works there knows how crucial it is to keep kids off the streets, away from gangs and steering clear of anti-social behaviour. Their passion for 'growing their own' and raising a positive, aspirational generation is what keeps the club going.
One such member of staff is John Stanghon, manager of the junior club, who took over from his mum after her retirement. He's adored by all and respected like an older brother, as are the rest of his family. His dad is the club's football secretary, his brother manages a football team and both his two nephews both come to the sessions. Even his great aunt met her husband at a dance there the 1930s!
With BBC Children in Need's money, the club can stay open over Easter giving children a fun-filled and chocolate-crammed time. Not many children do bonnet-making better than those at the St Andrew's Club! All week, children at the junior club have been designing and making fancy bonnets to parade for their friends and parents.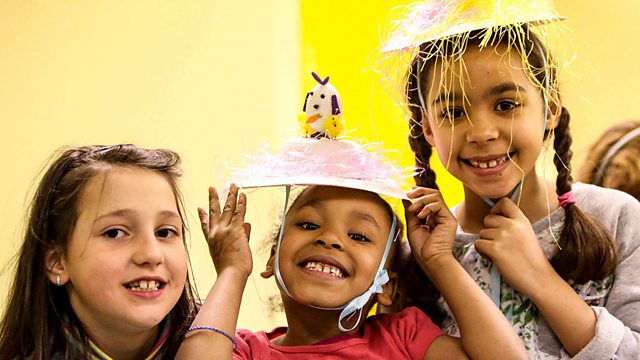 The children prepare for Easter by making bonnets.
Everyone went wild for the famous Easter egg hunt! Many eggs were found and devoured... and some were even placed atop the scrumptious Easter cakes being masterfully created by little hands for hungry parents. Have a look at the photos and see whose Easter bonnet you like!
Photos: (c) Jake Sugden
Who You Help: other projects in London