Happy Father's Day from Pudsey
People of all ages love stories and for children storytelling is really important for their development and to fuel their imaginations.
But some families struggle to find the time to sit down and read stories with their children, especially if they are facing other challenges in life.
Thanks to your donations, The Polka Theatre company in London is putting on storytelling sessions especially for children and their dads on Saturday mornings.
For Jon who works long hours full time, it's a great chance to spend precious time with his two-year-old twins Hannah and Adam while giving their mum some respite. It's also an opportunity to get to know people in his neighbourhood. His children love playing with other children and he likes socialising with other local dads too.
He said: "One time we built a tent and played out the story in the tent and it was really easy to set that up at home too for story time. So it gave me some ideas for activities we could do together. We have an older daughter too and my wife tends to be the primary carer. It was really nice to do an activity that was just me and them. This gave me a reason to make the time to do something separate and it was a good way of getting that started. I was a bit sceptical about going initially but it was good fun."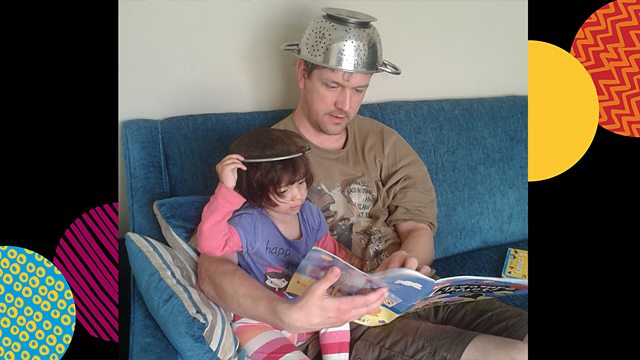 Luke and Layla acting out the story they're reading
For Luke and his daughter Layla, who's two, it was also about dad time, having fun and creativity.
He said: "There's not a lot going on in Wimbledon, especially after all the cuts, so this was really good. There were a good mix of stories and playing as well. We loved getting involved. Sometimes the storyteller drew a picture or we acted out roles. Layla was one of the youngest there at just two, but she enjoyed it in her way."
It was also extra special for Megan, who's six, because her global developmental delay meant that she felt she fitted in with the younger children attending.
Dad Peter said: "I really enjoyed the sessions and I think Megan did too. I spend a lot of time with her anyway because her mum works but it was a lovely environment and nice to see her interacting with the other children. Sometimes the team from the theatre company get us all sitting in a circle and we pass round a bag containing different objects. We have to take something out of the bag, then the next part of the story we tell develops depending on what each person pulled out of the bag.
"I made friends with the other dads too and we found we were all struggling with similar things like teaching our child to ride a bike or watching similar children's TV programmes."
The Stories for Dads sessions cater for families living in an area where many speak one of 160 different languages and where there are few facilities.
Keyur went along with his daughter Udi and said he enjoyed the sessions, which ended with a special World Stories Event performance. He works late into the night so often has to catch up on sleep during afternoons when his daughter wants to play. This gave them an appointment to play together. At just 22 months old she was one of the youngest children there but he found it a good place for her to meet other children and for him to chat to other dads about common problems and how to solve them.
He said: "The sessions involve music as well and the stories were really brought to life by being made into a play."
A grant of £24,714 over three years from BBC Children in Need enables the project to run creative storytelling workshops for pre-school age children and their fathers. The money pays for the salaries of a support worker and professional storytellers as well as their materials and transport costs.
Happy Father's Day to all those dads out there and thank you for supporting BBC Children in Need so more children can enjoy story time.