HM Revenue and Customs (HMRC) staff are big supporters of BBC Children in Need. Last year people across the department dug deep into their pockets and organised dozens of fundraising events in their own time, raising more than £100,000 from offices across the country.
As well as staff fundraising, the department also contributes to the grand total by opening some of its call centres and providing volunteers to take donations, in their own time, on BBC Children in Need Appeal Night. 
BBC Children in Need supporters from HMRC, were keen to find out where the money they raise goes and were pleased when BBC Children in Need offered one fundraiser the chance to visit  the ChildLine office in London.
ChildLine provides free and confidential advice to children and young people up to the age of 19 on a range of issues.  This year, ChildLine was awarded a three-year grant of £500,000 from BBC Children in Need.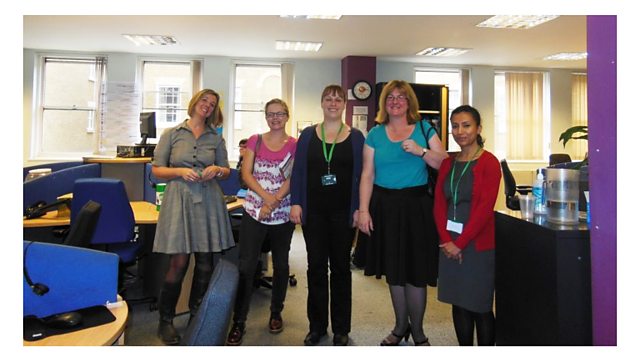 HMRC fundraiser, Jo Sculley visited the ChildLine offices in London
To show how important this funding is ChildLine opened its doors to HMRC fundraiser Jo Sculley for the day. Here Jo tells us more.
"As a keen fundraiser for BBC Children in Need I jumped at the chance to find out where some of the money we raise goes. I spoke to staff about their work and the service, and found out that these days it's more than just a phone line. Children can call or join conversations on an internet chat room to ask for help, or use social media such as Facebook for information. The calls and online contacts are answered by teams at one of ChildLine's ten regional centres. Staff and counsellors talked about the real problems young people are facing; they deal with everything from online bullying to low self-esteem and difficult family relationships.
Most of the contacts are handled by volunteer counsellors who have six months of training before answering any queries. Volunteers say it's important to give affected children and young adults 'free space' to be able to talk about their problems to someone who will listen. This hopefully gives them the confidence to take the next steps.
The grant from BBC Children in Need will help to make sure that the phones are answered and online services are managed during peak times - such as late evenings and towards the end of the week - providing a service when users need it most.
This lovely picture hangs in the ChildLine office
For me, it's great to know that the money HMRC staff raise for BBC Children in Need is helping to make a real difference to the lives of thousands of children and young people through services like ChildLine."