Three-year old Jacob is learning the names of his teachers. When he's shown their pictures he says who they are. But Jacob is profoundly deaf and uses hearing aids, so he's had to work a lot harder than other children to learn how to talk.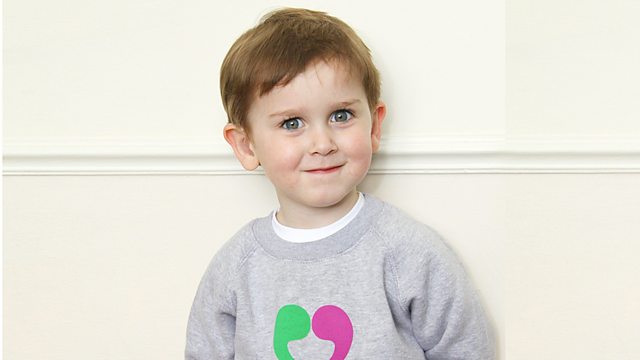 Jacob, who attends The Elizabeth Foundation, which helps deaf children learn to listen and talk
So has Tye, also three, who was fitted with cochlear implants when he was 19 months old. His mum remembers the awesome moment when his implants were switched on and he turned his head towards a noise for the first time. Background noise sometimes makes it difficult for children like Jacob and Tye to mimic the words they hear and this can affect the development of their speech. They are two of the 45,000 deaf children in the UK today, according to figures from the
National Deaf Children's Society.
Since the NHS established the Newborn Hearing Screening Programme in 2002, early diagnosis has been possible, so while some families opt to communicate as a family by signing, others have the option of accessing hearing aids or cochlear implants for their child if suitable. Being able to access communication skills during the crucial language acquisition phase of brain development in the first two years of a child's life can greatly improve speech and vocabulary development. With the right support, they can listen and talk as well as their hearing peers.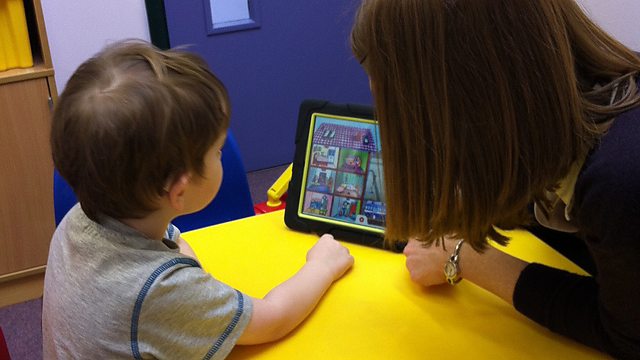 Jacob at The Elizabeth Foundation
One place that offers that support is
The
Elizabeth Foundation
in Hampshire, a national charity set up by parents Shirley and David Metherell in their home in 1981 to help their deaf daughter Elizabeth learn to speak. 30 years on, it has evolved into a purpose-built facility with a sister unit in Bradford. It runs nursery and pre-school sessions for children aged 0 to five as well as Home Learning classes for families who can't access the facility.
BBC Children in Need funds speech and language therapist Frances Clark who works there. She carries out one-to-one sessions to help 70 children a year learn to speak, to make friends and participate in a classroom environment. In the sessions, children like Jacob are asked to tap out the number of syllables in each word they say using a toy drum and drumstick, to help them understand word structure. They are asked to describe objects and scenes shown to them on cards and tablets. In Jacob's case, Frances was particularly keen to ensure that he pronounced the end of each word, such as the 'ed' of 'scratched'.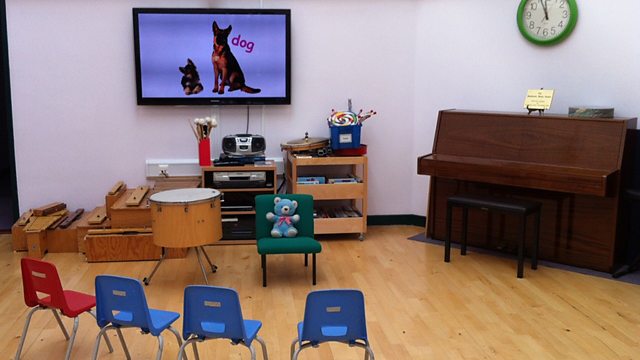 A classroom at The Elizabeth Foundation
In the classrooms, built with optimum acoustics, the task is to cut out pictures of farm animals and glue them into the correct farmyard pen. Teacher Rachel communicates with the children better because she wears a radio device that eliminates background noise for those children wearing a similar radio aid  – the same sort of device they will use when they start school. For some, this makes the difference between them accessing mainstream education rather than attending a school for children with special needs.
Cameras in each classroom record the sessions so that at the end of their time at the Foundation, parents can see what and how they've been taught and also have a keepsake of their child's progress on DVD. Outside the classroom there is plenty of space to play and ride around on bikes.
As a result of this head start, Director of Children's Services Julie Hughes said 12 out of the 13 children who left the Elizabeth Foundation in 2012 to start school were found to have abilities ahead of the average for all children their age range.
Jacob's mum Beth says: "The work that Frances has done with Jacob this year has been brilliant. It's so important that Jacob and all deaf children do not feel inadequate or unable to achieve because of their hearing loss and I believe that The Elizabeth Foundation helps deaf children to achieve their potential but also helps them and their families feel supported in a way that makes them feel 'normal' and that their hearing loss should not hold them back.
"If we hadn't had the input from The Elizabeth Foundation I think the prospect of 'big' school would be a lot more scary!"
Your donations have helped BBC Children in Need to fund nearly 60 projects to a value of more than £2,300,000 that support children with sensory impairments like deafness.