On Friday 16 November (Appeal Night itself!) a remarkable Cardiff-based youth group will be responsible for one of the most ambitious fundraising events ever staged by a voluntary organisation to support the BBC Children in Need Appeal.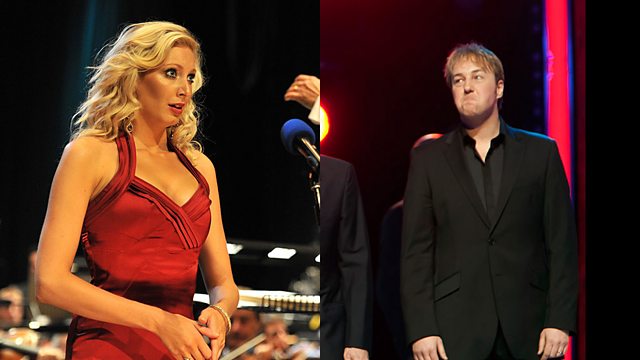 Gwawr and John will perform at a fundraising concert in Cardiff on 16 Nov 2012
Hybu Pobl Ifanc has brought together a choir of over 1,000 young voices – drawn from schools across South Wales to stage a concert in the Cardiff Motorpoint Arena - and they have succeeded in attracting star guest performances from West End superstar John Owen-Jones (fresh from his success as the Phantom in Phantom of the Opera, and his record breaking run as Jean Valjean in Les Miserables) and renowned Welsh Soprano, Gwawr Edwards. The evening will be presented by Behnaz Akhgar with a special guest appearance from Pudsey Bear.
Tickets for the event are now available, and can be purchased via Ticketline.
The concert will feature a wide variety of music, and the huge logistical challenge of co-ordinating and conducting such a formidable gathering of young voices falls to the Musical Director Jeff Ryan. Volunteers from Hybu Pobl Ifanc who originated the idea will be working hard behind the scenes and in front of house to help give the audience a night to remember.
The Co-ordinator, Gill James, explained that Hybu Pobl Ifanc is a voluntary organisation with members aged 16-18 from Cardiff, Newport & Blaenau Gwent who work to develop their volunteering skills and gain experience of event management to benefit others.
Over the years they have raised tens of thousands of pounds in support of BBC Children in Need, but this is by far their most ambitious undertaking to date. "This is young people supporting young people, learning valuable skills in the process, and helping raise resources for children who really need their support. Being able to do this with the active support of two internationally renowned musical stars is a tremendous boost, and I hope the Arena will be sold out on a memorable evening."