When an accident left fitness fanatic Rob Groves a paraplegic, he had to come to terms with a whole new way of life. Now he's cycling from Edinburgh to London to raise money for BBC Children in Need – using just his hands!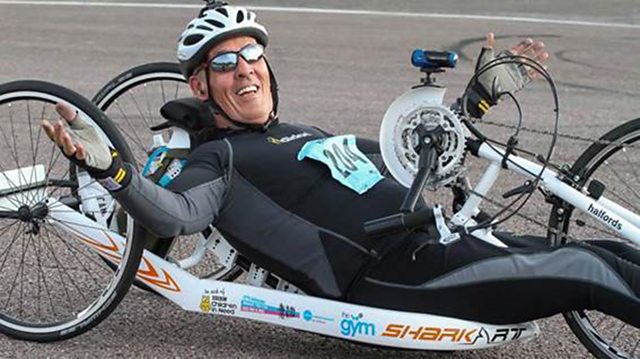 Handcycling
Hero Rob will start his epic challenge at BBC Edinburgh in Midlothian on 9 November, and will hand-cycle for six days – sometimes overnight - to reach London.
The 414mile journey is the culmination of two years of intense training for 57-year-old Rob, who hopes to inspire others to challenge themselves with his fantastic feat. "Finishing this ride will definitely be the biggest thing I've ever done in my life," says Rob. "But it's not about me, it's about raising funds for BBC Children in Need and sending a positive message to anyone who's lacking inspiration - to tell them they can achieve anything they put their minds to."
All Heroes get nervous from time to time and Rob admits he feels a little apprehensive as he counts down to the intense physical challenge. But when raising just £5 means a 5-year-old boy in hospital and anxious about his treatment can giggle and laugh at a magical entertainer, nerves disappear. 
And he has plenty of motivation to keep him going - not only does he have a support vehicle and a motor home of helpers travelling alongside him, but he also has the stories of the many less fortunate children he met during his recovery to spur him on. 
"Since becoming a paraplegic, I have met so many children who were born with a disability," he explains. "I met a 14-year-old girl recently while I was out raising awareness about spinal injuries and she said to me: 'You don't know how lucky you are - I've never walked.'"
Before the accident that changed his life eight years ago, our Hero Rob was a fitness instructor with his own health club and was passionate about keeping fit. 
"Afterwards I ballooned to 17 and a half stone," he recalls. "I went into a dark place and I wouldn't go out, nor accept a wheelchair. I was desperate to get my mojo back and knew that something had to change."
In need of inspiration, it was only when the qualified nutritionist was watching the 2012 Paralympics that he was finally encouraged to start training again – and he decided to give hand-cycling a try. 
Rob heroically threw himself into training and slowly began to get back into shape. 
"I have been training solidly for two years to get ready for this," says true superhero Rob. "Five times each week and for three hours at a time, I lift weights and use a crank cycle to build up my strength and stamina. I also regularly go out and cycle to prepare myself for the challenges of the open road. I'm currently able to cover at least 14 miles an hour."
Back on track and with his strength returning, Rob was quick to turn his attention to helping others through raising money – something he was no stranger to in the years before his accident. "I used to do a lot of fundraising and I was keen to take it up again," he says. 
Rob chose to raise money for BBC Children in Need after seeing how the projects we fund can truly make a difference. "A friend's child recently died of leukemia and another friend's baby died at birth from a brain haemorrhage," Rob explains. "I know that BBC Children in Need helps both the family as well as those who suffer from these terrible illnesses."
Rob's six-day challenge will see him pass through BBC studios in Newcastle, Leeds, Manchester, Birmingham and Oxford before he arrives to a Hero's welcome at BBC Broadcasting House in London. Pudsey himself will be there to congratulate the champion!  
"At least I have experienced being an able-bodied person," says Rob. "It's that thought that spurs me on every day."
Our Hero Rob is undertaking an epic challenge for BBC Children in Need. But no matter how big or small your idea, fundraising for us makes you a true Hero. Just £1 could prevent a child from going hungry at breakfast time for a week. 
Sign up to the brand new BBC Children in Need Fundraising Hero Hub for exclusive news, fundraising tools and tips that will help get your heroic activities off to a flying start.
To keep updated on Rob's progress check out his fundraising page.