Every year we're thrilled by the brilliant work that people right around the UK put in to raise money for BBC Children in Need. Here's just a few examples of some of the brilliant fundraisers from the South West of England who helped us to a record-breaking 'on the night' total of £26,575,446.
The University of Exeter Students' Guild got right in the fundraising spirit – and they were delighted to welcome a very special visitor to their campus to whip up some more support. Watch their YouTube video to see all of the different activities Pudsey got up to. We never knew he was that flexible!
Actor Anthony Head (from Merlin and Buffy the Vampire Slayer) turned up to lend his support to the "Young and Caring" scheme for young carers in St Paul's in Bristol. They were holding a magical fundraising cupcake workshop and were delighted to get a visit from a TV star!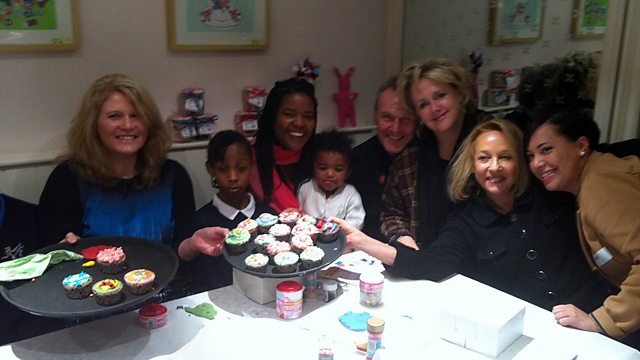 Anthony Head visits the Young and Caring project in Bristol
Over 1,000 children from 8 Melksham Primary Schools created their own lip-synched video to Katy Perry's "Firework" and then set up a JustGiving page for parents to make donations to BBC Children in Need. Congratulations everyone!
The team at Webbers Property Services have raised money for BBC Children in Need for many years now, but this time they decided to do something a bit different – they made cake replicas of houses and then auctioned them off to their colleagues and customers! Here's manager Noel Sexton with his cake construction, which went for a whopping £115. Thanks to Noel and all of his colleagues for raising the grand total of over £2,000!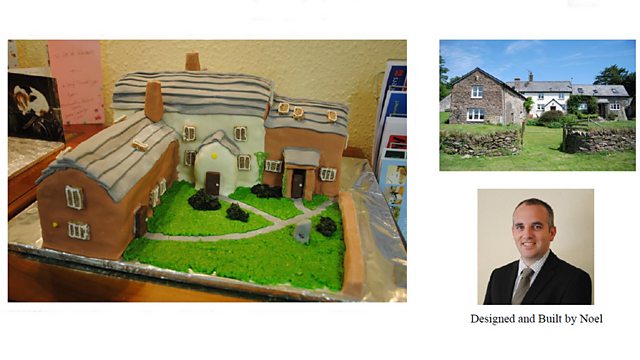 A delicious cake house that sold for £115
Staff at Red Funnel Isle of Wight Ferries managed to raise money and break a world record at the same time! They held a 24-hour cycle relay in the ferry terminal, with team-members taking it in turns to do stints and collect donations from passengers. However, the star of the show was regular BBC Children in Need fundraiser Gus McKechnie. Gus suffers from a condition called congenital hemiparesis (a form of cerebral palsy) and has lost several family members to the illness. Gus broke the World Record for a 24 hour row on a rowing machine in the LTA (using leg, trunk and arms) disability category, rowing a total distance of 159,000 metres. A stunning achievement, Gus!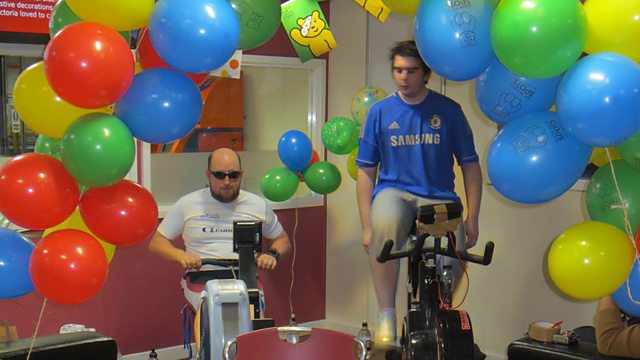 Gus McKechnie breaks the rowing world record
And here's a selection of some of the other fantastic fundraising efforts from the South West:
- 20 staff from Boots in Exeter got sponsored to abseil down the front of their building
- 300 students from The Roseland Community College in Truro recorded a charity single to raise money
- The Phoenix Trampoline Club in Plymouth held a 24-hour Bounceathon to raise money
- Residents at the George Downing House sheltered housing scheme in Plymouth raised over £100 by holding a coffee morning
- Staff and students at Cornwall College went custard crazy, throwing custard-soaked sponges at volunteers in the stocks and even trying to walk on custard
Hopefully some of these stories might inspire you to come up with some even wackier and wilder fundraising activities for BBC Children in Need in 2013!