It's that time of year again when fundraisers from across Northern Ireland start to prepare for this year's BBC Children in Need.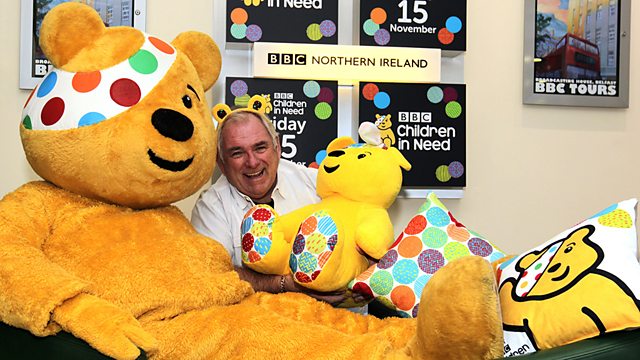 In the run up to the big night, which this year is on Friday 15 November, BBC Radio Ulster's Hugo Duncan leads the way rising to the challenge of raising money for the Appeal in BBC Radio Ulster's seventh 'Hugo-thon'.
For five days, from Monday 11 November to Friday 15 November, Hugo will call on listeners to be as generous as ever in supporting an auction.
Hugo Duncan said: "I look forward every year to the month of November and the BBC Children in Need Appeal. It is a very special fundraiser and has been close to my heart for many years. The team is now back in place and it's all systems go for the 2013 Hugo-thon.
"We are so grateful for the continued generosity of all our donors and our listeners - at home and out on the roads – who last year pledged more than £28,000 for our auction items and instant sales."
Hugo added: "I'll have plenty of 'Instant Sale' items as well – including hotel breaks, meals, concert and theatre tickets and your choice of a year's supply of either potato crisps or tea!"
The ever popular 'Money Can't Buy' theme continues this year with the chance to bid for a family to take lunch with The Duke and Duchess of Abercorn at their home in Baronscourt, Co Tyrone. Top Fermanagh chefs Joe and Ruairi Mahon are offering to go to your home and cook up a feast fit for a king – all to be served up by Uncle Hugo assisted by the 'wee woman with the big stick'- Joanne Murphy! And there'll be 'A Day on the Hill' – an opportunity for a family to get a glimpse behind the scenes at Parliament Buildings, Stormont.
Do you fancy an eight-night cruise to the Norwegian Fjords and Shetland next August or a long weekend at the Ultimate Irish Country Music Festival in Blackpool in March? What about a trip for two to see Manchester United play Fulham or an overnight stay to enjoy Daniel O Donnell in his Christmas concert in Dublin?
These, and hotel breaks all over the country, will be up for grabs as well as annual favourites such as an Ulster Grand Prix VIP package, a night at the Dogs at Drumbo and a great day's racing at the Downpatrick Christmas Festival. The Cement Mixer is also making another appearance this year and, for the first time, we are delighted to receive a beautiful acoustic guitar.
So get set for a whirlwind week of fundraising and fun – all for the best of causes – BBC Children in Need!
Tune in to Hugo Duncan on BBC Radio Ulster from 1.30-3pm to phone in a bid or just simply make a donation – on 08459 555 678 – and don't forget all your requests and dedications via email and text.
Last year on the night the Northern Ireland total was £793,858, contributing to an overall UK total of more than £43m. Of that over £3m is being spent on projects here in Northern Ireland.
So now is your chance to be a 'Be a Hero' for this year's appeal to help make a difference to the lives of many young people in Northern Ireland and across the UK.
For more information on how to get involved with this year's BBC Children in Need or to make a donation log on to: bbc.co.uk/pudsey and follow the links to the Northern Ireland site or call: 03457 33 22 33. Standard geographic charges for landlines and mobiles will apply.
BBC Radio Ulster on 92–95FM & DAB digital radio, digital TV and online.