On 6 May, a team of runners from Police Scotland are setting off on a 1,000km run to raise money for three charities including BBC Children in Need!
They'll be running from Wick, on the North East coast of Scotland, finishing in Dumfries in the South.
At the same time they'll be competing against volunteer runners, walkers, athletes who'll be taking part in 30 minute sessions on a treadmill at a gym in Dumfries!
Just before they set off, Pudsey caught up with Colin, one of the Run Doonhame team.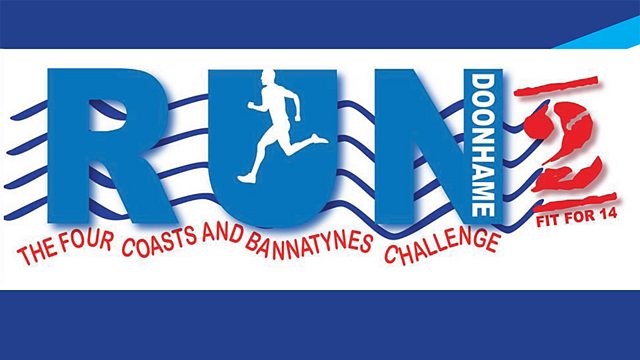 Pudsey: How has your training been going ahead of the challenge?
Colin: The training's gone well. We have a couple of fit guys who are well capable of the endurance aspect of this challenge. Graeme Scott is a probation officer, for example, but also a former captain in the army and he used to race huskies on a professional basis! But the team otherwise are not Olympians. There have been a couple of aches and strains, but no show stoppers so far.
Pudsey: How does this challenge differ from the one last year?
Colin: Last year was around 450 miles in 4 days and came through the flatter east side of Scotland. This year is more difficult - 650 miles (or a round 1,000km) with six days to complete it and the geography and scenery will be much more extreme. Throughout the route, we take in all four coasts of Scotland. We visit the most northerly, southerly and westerly points of mainland Scotland, we pass through the West Highland Way, near Ben Nevis, navigate the banks of Loch Ness and Loch Lomond and we travel right across our own home region in Dumfries and Galloway. This route is much more remote than last year and this poses logistical challenges in terms of road safety, runner support and overall team comfort, not to mention headaches such as phone and internet connection, and battery charging! We have a support cycle (which I'll be on) to act as support for each runner and provide extra overnight visibility protection behind the runner. We also aim to film more comprehensively to keep people interested at home!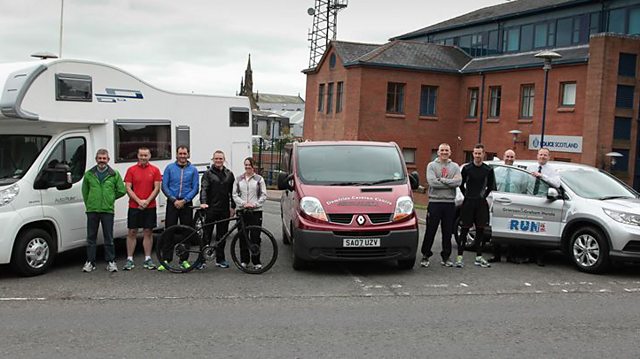 Pudsey: How is everyone feeling?
Colin: I think the enormity of the task ahead is now looming large on the horizon and we are apprehensive about it. The runners are worried about the sheer endurance, blisters and muscle strains and spasms while the support team worry about the logistics and continuity of support through the remote countryside. And everybody is worried about fatigue! This year, we have taken the precaution of bringing a sports therapist with us, who has kindly offered to come along for free!
Pudsey: Tell us about the treadmill challenge?
Colin: We felt that we wanted to include and challenge all our colleagues and friends this year. This is the year that the Commonwealth Games visits Scotland and we want to capture that spirit by encouraging others to get out of their armchairs and get a little bit fitter, at whatever level that might be. The treadmillers are from a wide cross section. While there are many off-duty police officers (like me, keen to lose a bit of flab!), we have other emergency service workers, amateur athletes and sports people, but also just a range of eager friends and relatives who want to join in and do their bit. We hope that they also generate a little cash along the way, as many hands make light work!
Pudsey: Why are you raising money for BBC Children in Need?
Colin: The three charities we are running for this year are West Sound Cash for Kids, the funds for which are exclusively local to Dumfries and Galloway, a Police Charity COPS, which is concerned with the Care of Police Survivors, dependents of serving officers who die in service anywhere in the UK, and of course BBC Children in Need. So we have a local children's charity, a police orientated charity, which benefits bereaved children, and a national children's charity in CiN! BBC Children in Need does fantastic work, year on year for kids in the UK. We know how popular and well supported it is and we wanted to provide people with a way of donating to it through our local effort if they wish to do so.
Pudsey: Thanks Colin and GOOD LUCK!!!
Follow the team's progress on their website. For all news from BBC Children in Need, make sure you follow us on Facebook and Twitter.