Here at Pudsey HQ we've had a little bit of a celebratory week - last Friday our cracking Appeal Show saw us raise a record-breaking £31.1 million – a remarkable amount that we couldn't have reached without the support of fundraising heroes from all over the UK. Not only were we honoured to see such a wide variety of fundraising activities, we saw all these wonderful activities translate into a remarkable on-the-night total. It'll make an unspeakably huge difference to the lives of thousands of children and young people all over the UK, and right where you live. So, on a celebratory note, let's take a quick look at what a select few of our fundraising heroes got up to last week.
Firstly, a great big THANK YOU to the wonderful students in the LEAP group at Crosby High in Liverpool. These brave warriors took to their bikes to battle against the elements in a fundraising bike ride! The battle wasn't in vain – the rocking riders raised a wonderful £300! Crosby High teacher Lesley Hall got in touch to say just how proud she was of her heroic students!
As you may know, our biggest fundraising theme this year is 'heroes', and we've been asking all our supporters to get out there and prove themselves heroes in the name of Pudsey Bear! Our next shout out goes to a group of teachers who took this theme to the max! Staff at Galliard Primary School in London asked all the whole school to dress up as something starting with the letter 'P'. We bet the pupils at the school were delighted in the morning when instead of being greeted by their familiar teachers, they were instead greeted by a group of rather nifty fundraising Power Rangers, presumably taking a day off from fighting intergalactic monsters to focus instead on tackling unruly classrooms! The group proved to be heroes indeed, raising an astonishing £671.00 for BBC Children in Need, and they evidently had a cracking time doing it. A big thanks to Luke Dedman (the everyday alias of the Red Ranger!) for sending in the below photo.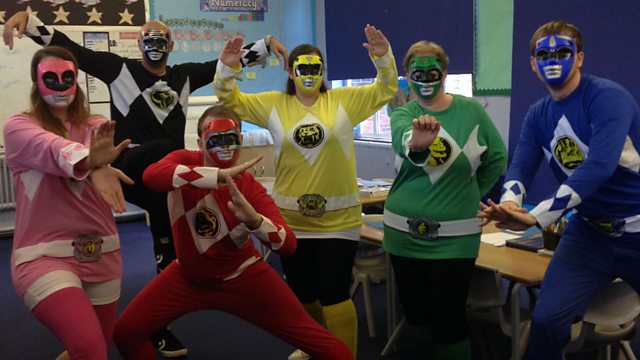 Staff at Galliard Primary School get set for a day of epic fundraising!

Another brilliant group of fundraisers which illustrate nicely just how varied the groups we received support from this year truly were, are the The Screaming Eagles Living History Group are a collective of history enthusiasts. The group attempts to utilise their historical knowledge to accurately portray the events surrounding the 101st Airborne Division of World War 2. Each year the Eagles raise money for a chosen charity by walking the training routes of the US airborne, located in Aldbourne.
This year the walk was a great success, with a number of enthusiasts coming out to walk the route dressed in full combat gear! Alongside these, veterans from the original 101st airborne division had come over the USA to lend support! It was quite a wet and soggy day but the determined fundraisers from the 101st Airborne Division marched on regardless and kept their spirits up! Pudsey himself even got involved, learning how to march like a true soldier! At the end of the day, after everyone was warm and dry, it was agreed all involved had a wonderful time, and what's more, quite a lot of pennies were raised for Pudsey, too – over £3,000!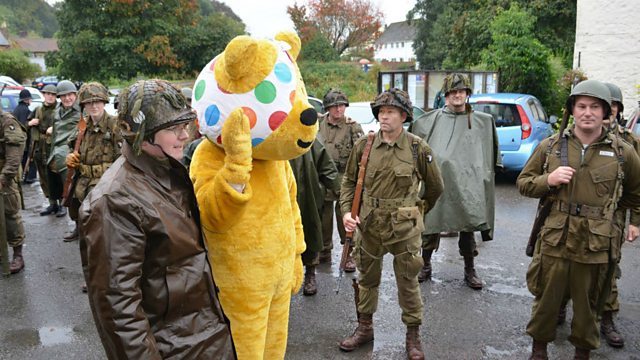 Pudsey gets in line with The Screaming Eagles!

Our last hero comes from within our own rank of troops – the BBC! Chris Yanda, based in our BBC offices in Salford, made a very unusual proposal this year in an attempt to bring in the big bucks for the Bear. Chris promised to cycle one kilometre for each pound he raised for BBC Children in Need. There's nothing that unusual about that, you may be thinking, but here comes the fundraising masterstroke – Chris vowed to cycle each mile in a tutu! If you've been recently bewildered by a Tutu-clad cyclist zipping around Manchester, then this just might explain it! You can check out pictures of Chris' adventure on his Justgiving page, and why not donate a few more pounds to see him go even further? Thanks for all your support Chris!
That's it for this week's round-up, we'll be back next week to celebrate some more of our glorious fundraising heroes who have helped to make this year such a success. If you'd like a mention, we'd love you to get in touch and tell us about all your fundraising. Simply email your local address on this page, and tag us @BBCCiN on Twitter and Instagram or @Pudsey Bear on Facebook. It's easy. So go, help us celebrate your decision to #BeAHero!