Who You Help: Classical Cuties
Classical Cuties is a music-based afterschool club run by Leigh Underwood and is based at a primary school in Tonyrefail in the Rhondda Valley. With the help of BBC Children in Need, a grant of just under £10,000 has paid for some of the instruments the children play. Previously, the pupils aged between four and eight, made do with cardboard tubes, yoghurt pots and egg boxes and other bits of recycling. Now they can play on drums, percussion instruments, recorders, little keyboards, ukuleles and xylophones. But the beauty of Classical Cuties is that there's so much more to it.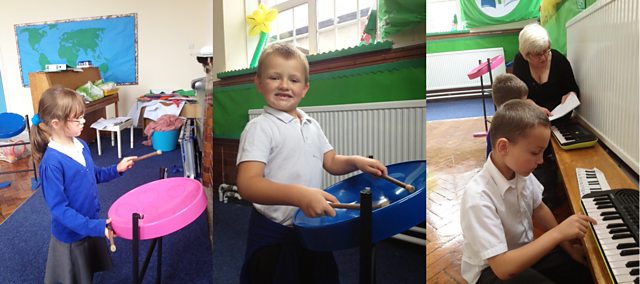 Classical Cuties
Leigh is passionate about music but even more passionate about ensuring the children she cares for have ambitions and aspirations. She says many of their parents are very humble and say that they are 'just' from the Valleys, where unemployment has been a  problem since the coal industry started to decline 40 years ago. So she aims to ensure that the children gain confidence while learning other aspects of the school syllabus in a music-themed way. 
So they get to know the life stories of famous composers like Elgar, Vivaldi, Tchaikovsky, Holtz and Mozart. They also learn about the countries involved and their cultures and languages - while being bilingual in Welsh anyway. They also role play or retell the story of a composer's piece of work, like The Magic Flute for example, so this is helping their comprehension skills. They're being creative by making magic flutes out of the silver paper, cotton buds and recycling that Leigh still has to hand. They're also practicing their numeracy skills by playing to a rhythm and learning to keep time. And there's a record of everything they've done in each child's scrapbook where they practice their literacy skills and handwriting. Leigh documents everything meticulously in personalised scrapbooks, including photos, pieces of writing, drawings and stuck in question and answer booklets.
At the end of each session, Leigh also teaches the children to evaluate their own behaviour using an innovative method involving musical notes. The children are asked to rate how they think they behaved during the session and then their classmates comment on whether they think that's fair. So if you've been a crotchet, that gets the fewest points because it's the shortest note. But if you've been good that's a minim or dotted minim. An absolute angel merits a semi-breve!
The proof of the effect that Classical Cuties has on the children is there for all to see. For group members, Hollie and Abi, it's an afternoon of fun each week where they can really come out of their shell.  Mason, five, beams with joy when he gets a tune right all the way through. Meanwhile, Kieran, Jack and Elliot, beat out a tune on the drums or the keyboard.
The group, who live up to the Cuties in their name, have featured on the Paul O'Grady show & local news, and they've met the Prince of Wales and Katherine Jenkins. They also won a Rising Stars award from Community First.  
So thank you for donating to BBC Children in Need and enabling children like the Classical Cuties to learn, achieve, grow in confidence and enjoy enriching experiences.