With under a month to go until this year's BBC Children in Need Pudsey is getting ready for all the fundraising activities planned in Scotland – with the TV appeal coming live from the Beach Ballroom in Aberdeen for the very first time.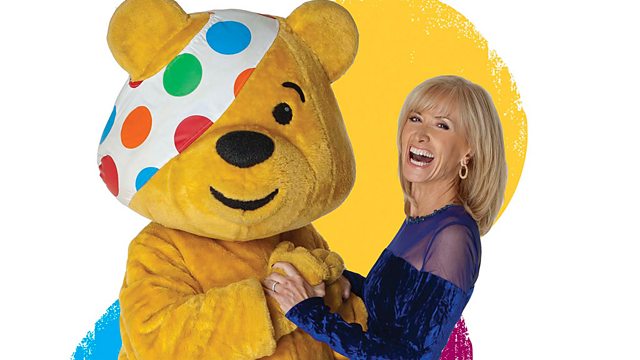 Jackie Bird dances with Pudsey Bear
Jackie Bird is back at the helm for BBC One Scotland and will be presenting highlights of the activities across the country in front of an audience of fundraisers. They will be entertained by 125 children, from across Aberdeen and the North East of Scotland, who will be singing their hearts out as part of a UK nationwide choir on the big night on Friday 16 November. The song will be Bridge Over Troubled Water and the Scottish choir will also be performing an additional song which will be seen on the BBC One Scotland highlights programme on Saturday 17 November.
Viewers will also see some of the projects where the money raised for BBC Children in Need goes to in Scotland. These will be the Scottish Centre for Children with Motor Impairments based in Cumbernauld which supports children with cerebral palsy and other motor impairment conditions in Scotland, Over The Wall which provides children with life limiting illnesses residential activity camps, and KITS (Kids in the Street) which helps children in the Niddrie area of Edinburgh and encourages healthy living and social skills by allowing the young people to play football in a safe and supervised environment.
There will be a full day of fundraising action on BBC Radio Scotland, kicking off with Call Kaye at 8.50am. Highlights throughout the day include celebrity guests dropping into MacAulay and Co for a chat before taking up the challenge to see how many pledges and donations they can take over the phone in the special call centre set up in BBC Scotland. MacAulay and Co will be broadcasting live from the Pacific Quay reception to a live audience.
A special programme at midday, Pudsey Pays Out, looks at the work BBC Children in Need supports in Scotland. In 2012 BBC Children in Need awarded grants worth just over £5.1 million to 121 projects across Scotland. This programme takes a closer look at just a few of the grants awarded from previous appeals to explore the difference this funding makes to young people's lives.
The Comedy Café at 1.15pm will see Janice Forsyth joined by Janey Godley and Roddy Hart and more as she goes through musical heaven or hell – with donations deciding on whether she will have a song performed by a professional or a bad celebrity guest singer. Following this, Tom Morton will be live from Aberdeen with an audience of fundraisers as well as music from Love and Money.
Finally Bryan Burnett will round off BBC Radio Scotland's day of fundraising programmes with an action-packed Get It On BBC Children in Need Special from 6pm, where he and his live audience will be joined by The View and Frightened Rabbit as well as other special guests. Free tickets for this show will be available from Monday 29 October.
Meanwhile, Radio nan Gaidheal will be broadcasting a live ceilidh from the Ness Social Club in Lewis. Hosted by popular radio presenters Morag MacDonald and, returning to his homeland, Derek 'Pluto' Murray, this will be a real community based event. The Stuart Taylor Band will provide the music for the evening and other local artistes will be confirmed in the coming weeks. The children's radio show Aileag will also broadcast live from the Ness Social Club with a gathering of local youngsters joining in the Pudsey inspired fun.
Members of the public will also be welcome throughout the day at BBC Scotland's headquarters at Pacific Quay in Glasgow as there will be a special BBC Children in Need bank and shop in reception.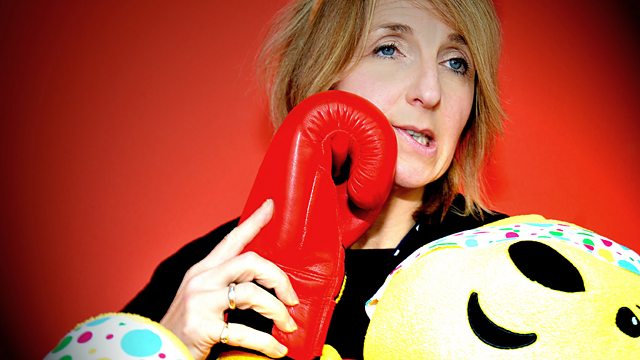 Kaye Adams gets knocked out by Pudsey.
UPDATE: 20 November 2012
Sadly owing to illness, Jackie Bird wasn't able to present BBC Scotland's events this year. We're very grateful to Kaye Adams for stepping in at short notice and doing a fantastic job. Thanks Kaye - you're a knockout!