Summer is upon us! This may mean that, in true British fashion, the weather rotates between overcast and rainy with rare and fleeting bursts of proper sunshine, but it's still summer nonetheless! It also means that a lot of keen Brits are fastening their laces, hitting the road, and running races for charity all over the UK. In case you were thinking of running for BBC Children in Need this year, we wanted to share the story of an inspirational group of fundraisers with you. Who knows, it might just give you the inspiration to embark on your own fundraising challenge…
The Gump Challenge
Last September, a truly heroic group of firefighters from Tamworth took to the road for an epic challenge – all in aid of BBC Children in Need. The Gump Challenge, a 9-day, 280 mile circular run through the hilly terrain of Staffordshire, saw the brave group running over a marathon every day!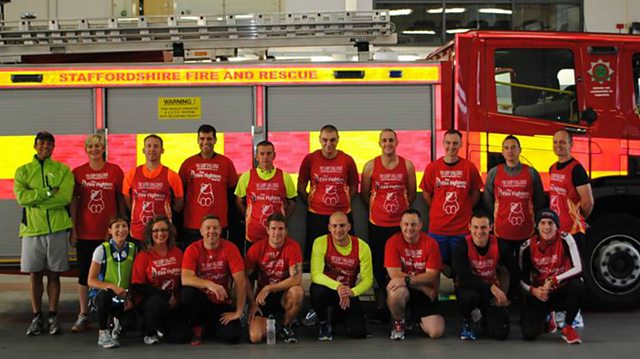 The Gump Challenge looking chirpy on the first day of their challenge
The group had planned their journey carefully, and as the journey went on, the increasingly beaten and battered Gumpers bunked down every night in a different Fire Station along the way. Once they finished for the day, the group would have a chilly ice bath before bed, waking up ready to hit the road again for another demanding day. By the time the group crossed the finish line they'd run 280 miles through gale-force winds, piercing rain, sweltering highs and freezing cold lows.
In true Forrest Gump style, the team encouraged members of the public to get their kit out and join them on their challenge. It might seem like having the occasional stranger on your run might be slow you down, or be a distraction, but for The Gumpers it proved to be the opposite.
When we asked group leader Matt how he and his colleagues stayed motivated throughout the run, he told us that it was the amazing and inspiration people they met from all over the county that kept the group running all the way to the finish line.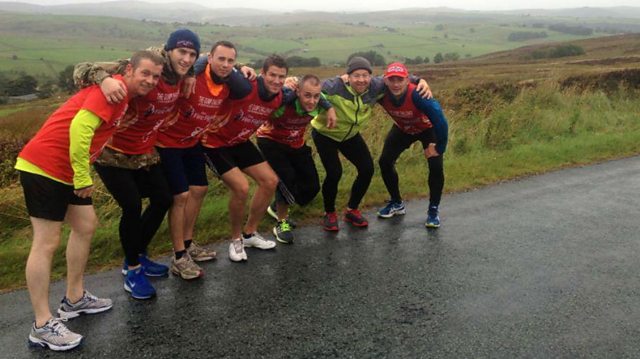 And a little later, a wet but happy team.
It was an amazing challenge - and an incredible physical undertaking. But at the end of the day, when all the money was collected in, it proved to be well worth it. The brave and bold Gumpers raised over £5,590 for charity. Half of this money was given to a very grateful Pudsey Bear, - every penny will go towards helping disadvantaged children and young people. The other half will be given to The Fire Fighter's Charity.
Feeling inspired? Well, if you and your colleagues, or your friends and family feel like proving your mettle and stretching your legs, we've asked Matt, main Gumper, for his top tips on how to have a good running challenge. He kindly offered the following sage advice:
1. Invest in a suitable pair of running trainers! Your local running shop will be able to advise you on the right pair for you, this could be cushioned or more 'structured' for support. A good pair of trainers will help to protect you against the possibility of running related injuries.
2. Don't be afraid to walk! Just because you are setting out on a running programme doesn't mean that you can't take a walk-run approach. Building in some walking breaks will enable you to build your endurance more quickly than if you run for longer and then stop to get your breath back.
3. Use the 10% rule! It is easy to get carried away when you are enjoying something new and seeing improvement. Increasing your mileage too quickly can lead to injury, so a good rule of thumb is not to increase your distances by more than 10% each week.
4. Keep well hydrated. Make sure you drink plenty throughout the day so you start your run well hydrated - if you feel dry you are already dehydrated. Fruit and vegetables have a high water content, so a healthy, balanced diet will help you to keep well hydrated.
5. Remember to stretch! I personally prefer to stretch after I run, rather than before. Muscles are best stretched when they are warm and pliable, rather than cold and short. Build yourself a little routine, where you slow your pace at the end of a run or walk a few hundred metres, then stretch your main muscle groups - back, quadriceps (front of your thigh), hamstrings (back of your thigh), calves and shoulders.
Feeling ambitious? Think you could organise an even better challenge? Well, then, give it a try! Whatever you do, don't forget to let us know. You can email us on this page here, or tag us on Facebook @officialpudsey or Twitter and Instagram @BBCCiN.  Go on, Be a Hero!