So back in November, I was lucky enough to be part of an incredible team at BBC Children in Need that helped raise a record breaking amount of money. On Appeal Night I got to see and meet children who are helped first hand, and this motivated me to do something a little bit extra. There are lots of great ways to raise money: bike rides, treks, cake sales, but I wanted to do something bigger, that would challenge me to the maximum.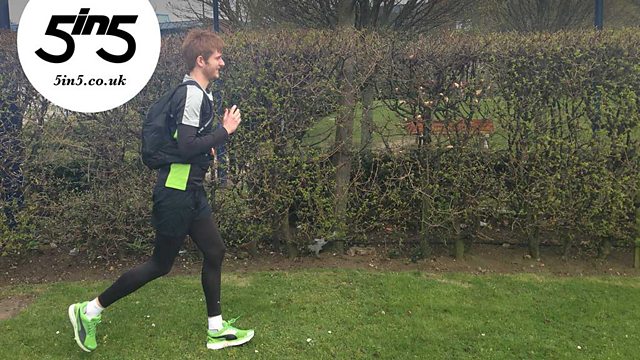 BBC Children in Need Graphic Designer Mark Attree runs 5 marathons in 5 days
After lots of research, I opted for a running challenge, and came up with the idea of taking on five marathons, yes 130 miles, over five consecutive days! Sounds so much more crazy now than it did back then. I found the perfect starting point- Pudsey Drive- which is exactly 130 miles from my home in Kent, where I will finish.
Since November, I've been planning the whole challenge. From training, to booking hotels, and from tracking the route, to making sure I'm on the right diet. The training side has been one of the hardest things I've ever had to do. I'm far from a regular runner, so had to build up the miles gradually. I booked loads of half days off work, to run the 20 miles home.
As it's been one of the coldest starts to the year, I approached my local gym who offered me free membership, which meant I could do lots of training indoors. I also asked several sports brands if they'd be willing to help by supplying some running gear, and luckily Puma and New Balance both chipped in! You never know whether you'll get that kind of help but I thought there was no harm in asking and was delighted to get such support from my local community and big brands.
Then comes the diet- cutting out the junk, sigh, and replacing it with high-energy meals; pasta, porridge and rice being my main options. With success on the sportswear sponsorship, I then looked for the same with energy and fuel supplements. Lucozade have a great scheme called the 'Yes Foundation', where they sponsor some great fundraising ideas. I was successful with my application, and Lucozade kindly sent a couple of crates of drinks and £500 towards my total for BBC Children in Need.
Alongside the training, I had to organise the route and stops. The key to making it work is ensuring the route is safe and runnable, and finding places to recover overnight. Fortunately, a couple of hotels were nice enough to put me up for free (Best Western, Premier, Moor Hall and Holiday Inn Luton South).
All this may sound like lots of work, but it's all just a few emails and phone calls, and so rewarding when people do want to help. Social media like Twitter and Facebook make it so easy to get donations and spread the word. Even better if you can get the odd celeb to tweet about it (thanks Chesney Hawkes!)
The BBC Children in Need team have been incredibly supportive, and in fact wanted me to write this blog post in the hope that it will inspire other fundraisers out there. Digital Marketing Executive Wendy Owen says: "What Mark is doing is phenomenal, his determination and passion to get out there and do this challenge, not only to raise money for us but for his own personal achievement, is admirable. Contacting companies to ask them to help out is a great way to get support for your fundraising and we think Mark is such an inspiration to other fundraisers out there. We will certainly be supporting him on our website and on social media every step of the way!"
So I'm now just hours away from the start and, while feeling slightly nervous about it all, I'm also pretty excited. It's going to be unbelievably hard, but the money that's raised will help so much. I'd encourage everyone to do something similar, maybe not five marathons (!), but whatever is right for you. You'll find there are so many people out there willing to help, and the sense of achievement you get from it in the end will make it all worth it!
To keep track of it, visit www.5in5.co.uk
Thanks for reading, wish me luck and get fundraising!