Who You Help: National Childhood Obesity Week
It's National Childhood Obesity Week and BBC Children in Need is proud to support more than 250 projects throughout the UK that educate and encourage children and young people to lead healthy, active lifestyles. One of those projects is APPLE.
On the edge of Acton Park in west London there's a small, inconspicuous building that's overflowing with activity after school and during the school holidays.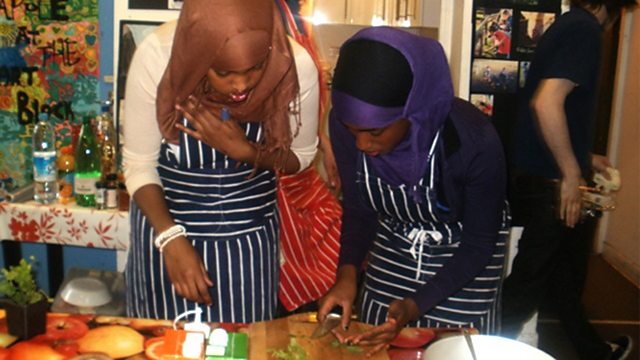 When the children and young people arrive, they receive a warm welcome, immediately wash their hands, and get to work preparing fruit or vegetables for a fruit salad or soup. It's all part of the aptly-named APPLE project's central aim of teaching them how to grow and prepare healthy food. As a result, they also develop healthy eating habits, good table manners, learn gardening and cooking skills, as well as generosity and hospitality.
Once they've had something healthy to eat, it's time to get active. That might involve building a go-cart, creating a creature for an exhibition or carnival float, filming a fashion show or a whole host of other arts and crafts. So the project helps local children and young people gain confidence and new skills too.
Project manager Vicki Barker says they also encourage consideration for others by fostering good table manners and sharing. They develop an understanding of others by trying food from other cultures and become self-sufficient because they can grow and prepare their own meals. They have the opportunity to choose positive inclusive activities and the chance to gain vocational qualifications.
APPLE – Acton Play Project and Leisure Services - offers 82 open access sessions to children and young people from low income families by providing a range of cooking, gardening and arts-based activities for them. When the weather is good, that means going outside and planting or harvesting vegetables which are then prepared and eaten inside.
A three year grant of £29,595 funds the costs of food project and gardening staff as well as youth helpers, gardening materials and other project costs.
One young woman, who used to attend APPLE sessions regularly, is now at university in the north of England but popped in a few months ago to talk to her old friends and project staff about how things were going there – inspiring some of the other young people to consider higher education as a possibility for them too.
Another teenager, who had been homeless following a bereavement, successfully worked as a volunteer for a project in south America after developing confidence and new skills at the APPLE project.
But both of those young women were nervous and shy when they first turned up at the project, just like a 12-year-old girl who has started attending recently, hungry and with little self-esteem. Vicki says she is starting to show signs of feeling safe at the project and she and other staff there are sure that before long she will have discovered her own interests, talents and will start making positive choices for herself.