The first Friday of each month is 'Freestyle Friday' at Studio 3 Arts dance studios in Barking, Essex. That's when street dancers from the area battle it out with each other in a friendly frenzy of carefully coordinated choreography!
They've developed their skills – and other young people will be able to develop theirs - thanks to a new three-year grant of £108,360 that pays for the expertise of two freelance choreographers as well as some of the other costs involved.
Jade Hackett, of Unity UK, is one of those dance experts and she leads the dance company Big Deal. You can see some of them – Rochelle, Jennifer, Zoe, Rhianna and Oleata - in this picture during a rehearsal.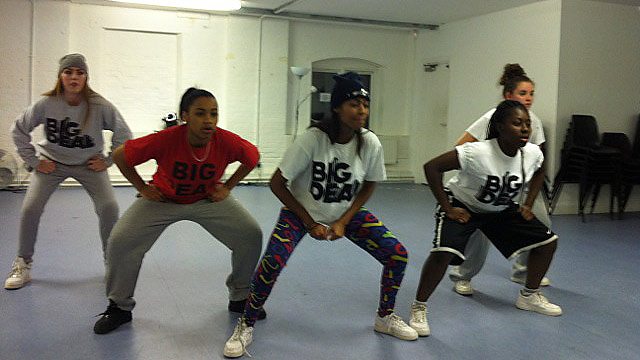 Studio 3 Arts is supported by a grant from BBC Children in Need.
Big Deal have formed a tight-knit bond after last year winning the Borough and England Hip-Hop Championships and then travelling to Germany to compete in the World Championships, where they finished seventh. Each dance member reels off anecdotes about the highs and the lows of what that entailed, from getting their costumes sorted to crying with frustration when a routine didn't go well.
Jade says: "I drove them really hard and will settle for nothing less than a top three place next time! I have very high standards because they have the talent and just need to be pushed. I'm equally adamant that they do their school work and learn about the history of hip hop, absorbing information about human rights issues along the way because that's important. They're great girls."
The success of Big Deal is also down to Artistic Director Liza Vallance's ethos. She commands great respect in running the art, music and acting taster sessions at the studios each summer, as well as the dance sessions.
Liza establishes where each teenager's particular interest or skill lies before encouraging them to explore that skill further. Those teenagers may come from low income families, have experienced gang culture or been involved in anti-social behaviour or they may be at risk of school exclusion. But any attitude or self-esteem issues are soon reshaped by both Liza and those who have already benefitted from the project.
Rochelle says: "Some of the kids are really rude when they first arrive and have tons of attitude but they soon learn from the rest of us how they are expected to behave and the other kids really stick up for and protect Liza."
But it wasn't long ago that Liza was working for free and this project's existence was under threat because of a lack of funds. So thank you for donating to BBC Children in Need and enabling girls like Rochelle, Jennifer, Zoe, Rhianna and Oleata to reach their full potential.