Who You Help: Hearing Dogs for Deaf Children
Seven year-old Klara has had moderate hearing loss in her left ear and profound hearing loss in her right ear since she was born. She suffered from countless ear infections which meant that she couldn't always wear her hearing aids; this resulted in her speech development being severely delayed.  However once she started school and had access to a Hearing Resource Space which involved a teacher for the deaf and speech and language therapy, her speech really took off.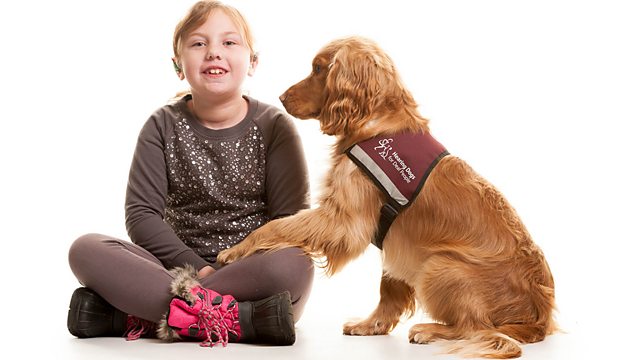 Klara and her Hearing Dog, Jasper
One day, her grandmother saw a lady in the supermarket with a dog wearing a Hearing Dogs for Deaf People coat so she started chatting to her out of curiosity. Her grandmother passed the information that she had learned onto Klara's mum, Michele.  Michele went online and soon discovered that Hearing Dogs, based in Buckinghamshire, had just launched a  pilot scheme available for children in certain areas of the UK. Michele contacted them in March 2012 and after a conversation, it was determined that Klara was eligible for a dog.
Klara and her family went to an information day in May and the staff at Hearing Dogs for Deaf People were instantly impressed by the way Klara behaved around dogs. Klara and her family had never had a dog but she seemed naturally at ease with them. After going through the initial interview and form-filling process, Hearing Dogs carried out a home assessment and discussed Klara's weekly routine. In September 2012, the family found out that Klara had been accepted onto the programme. 
Two months later, they went to meet Jasper and stayed in Hearing Dogs accommodation with him. That was the first night Klara slept in her own bedroom – even though it was a strange, new place – because she had Jasper with her. Until then, she had always been too frightened to sleep in her own room so slept in her parents' bed. Then, just in time for Christmas last year, Klara and two other deaf children received their hearing dogs and training. Klara said it was: "The best Christmas present I could ever get!"
A year on, her life continues to be transformed. Jasper, a working cocker spaniel, continues to enable Klara to sleep well at night. Before, she had been scared to be alone in the silence and darkness. Exhaustion compounded her frustration at home and school and she found it difficult to concentrate. But now, she's doing better at school too – and loves going to Brownies.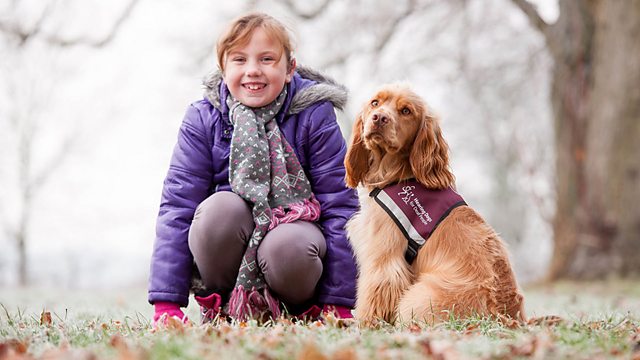 Klara, out and about with Jasper
As mum, Michele explains, "Jasper has made a huge difference to Klara – but also to us as a family.  When Klara was in a lot of pain because of yet another ear infection, Jasper knew to leave her alone, but once she was better and she relaxed, he seemed to know and put his head on her lap.  He also wakes her up in the morning because she can't hear an alarm clock.  He jumps onto her bed and when she puts up her hands and says "What is it?" he jumps down and sits by the alarm clock." 
If the smoke alarm goes off, he'll jump up to get her attention and respond to her question by lying flat on the floor. That's the sign for danger - he can't take her to the source of the sound in case the fire is there.  If her parents want to call her, they'll say "Jasper, call Klara" and he'll either go and get her or carry a written message in a purse in his mouth and take it up to her bedroom for her to read.
For a girl who wouldn't even go upstairs on her own before, preferring to always have her parents in sight, Jasper has enabled Klara to gain bags of confidence.  Now she's given a talk in class about her Hearing Dog.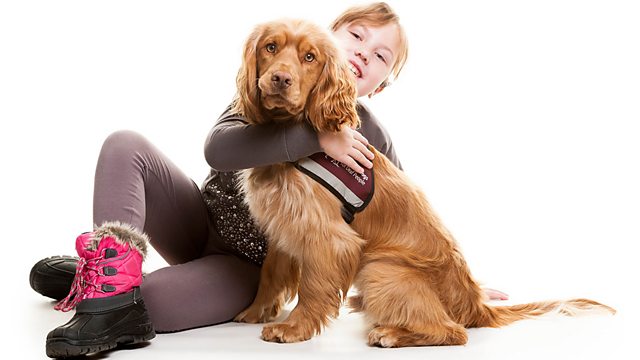 Jasper gets a well deserved cuddle from Klara!
Thank you for supporting BBC Children in Need so we can fund projects at organisations like Hearing Dogs for Deaf People and help children like Klara.
Click here for information about Hearing Dogs for Deaf People.