International Happiness Day
We want to celebrate the projects we fund that bring a smile or an infectious chuckle to a child's face on this the first International Happiness Day.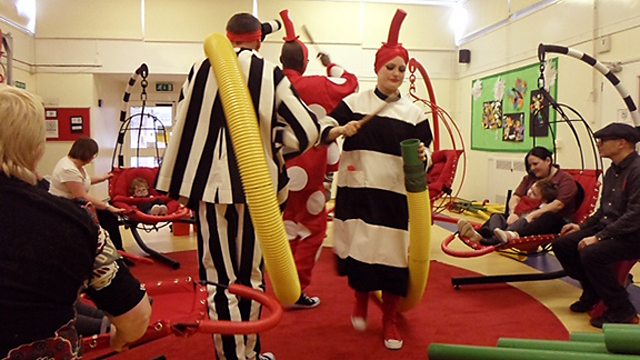 One of those projects is
Oily Cart
which travels all over the UK delivering 55 minutes of interactive entertainment to very young children with complex learning disabilities. These spectacular, multisensory shows are performed at their special schools or at commercial theatres and are personalised too, with performers taking their cues from the children's responses to activities as well as those of their one-to-one carers.
First the children are collected from their classroom and led Pied Piper style to the assembly hall. Then they are moved from their wheelchairs and all the child's senses are engaged while they watch and clap from specially designed 'leaf' chairs that the child's carer or 'chair driver' can move to make them swing, sway, bounce or spin along with the child's wishes and in time to the gentle, rhythmic music that's being played.
Each show is based around a central theme and the latest is Tube, which may seem bizarre, but as artistic director Tim Webb explains, tube shaped objects are incredibly versatile. You can look through them, make noises with them, blow through them, crawl through them, unravel them, put things inside them and shake them. And that's exactly what happens during the Tube show, most recently performed for two groups of six children at Brooklands special school in Reigate, Surrey.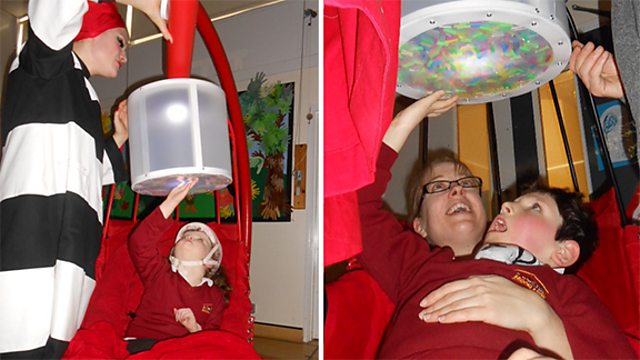 The three performers, dressed in brightly coloured costumes of spots or stripes to give a clear silhouette to children who are visually impaired, traverse the makeshift performance space to engage with each child individually. Their very different voices combine in jazzy harmony as they emphasise each word of a song and fetch different objects to illustrate it. Those objects include a tube-shaped plastic straw that they use to blow air onto Ross's hand or a specially adapted balloon pump that wafts the scent of lavender or mandarin towards Leyla's nose. Then a tube-shaped towel is unravelled and placed on Ben's lap to protect him from getting wet as a clear, plastic umbrella is similarly unravelled and a fine mist of water sprayed over him to simulate rain.
Light was also involved when a white lantern is attached to a hook on the leaf chair hung above all the children's heads, the lights switched off and objects sprinkled into the lantern so they can swish them about and hear them rattle. If they can't hear the songs and sounds very well, they can feel the vibration through the concertina'd tubes brought to them and from the tunes tapped out on the specially designed percussion organ.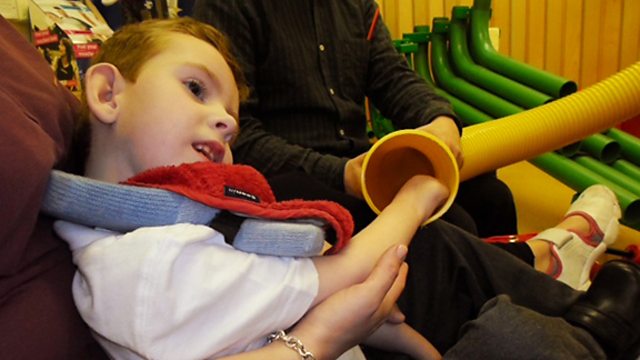 Every child had a personalised goodbye sung to them and every child smiled or chuckled during the performance, leaving them delighted at the end of a long school day.
Staff caring for the children said afterwards: "I don't think I've ever seen Emily, who's seven, engaged for that long. It was the perfect activity for her and she particularly reacted to one of the characters. She was laughing and smiling the whole way through.
"Ross loved the goodbye song and the tempo of the music and the movement of the chair.
"Jack said 'Bye' really clearly and Shea said Leyla's name and Leyla said goodbye with a very clear letter g and two definite syllables. Toby sat bolt upright to see what was going on and Harley, who has a strong grip, let go of the tube when he was asked because the performer just knew to be gentle and patient with him."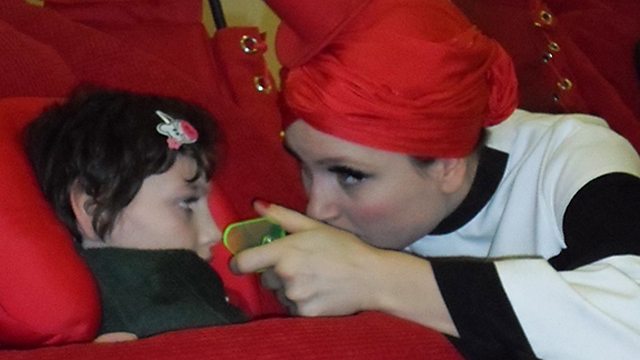 Staff also said the movement of the chair relaxed the children. They were comfortable and the pauses between each song gave them a chance to rest too and to respond vocally if they wished. Teachers learnt a thing or two too as they were able to take a step back and observe the children's reactions instead of their usual role of leading a session.
It's a show that the children are expected to join in, rather than simply observe, and it's impossible not to smile as you watch the children's transfixed faces - children who might find a local or West End theatre simply overwhelming.  
But funding is tight. As general manager Kathy Everett explains: "There is increasing demand for our work for young people with complex disabilities and we have a long waiting list."
Your donations have helped BBC Children in Need's grant pays for two of the performers and a development researcher at Oily Cart. We also fund several organisations like the Pod Charitable Trust, the Welsh National Opera's Singing Doctors, the W5 play workers and Sinfonietta that visit children in hospital when they are feeling scared and vulnerable. So thank you for helping to make disadvantaged children happy.
Find out more about who BBC Children in Need help in your area by clicking here.