BBC Children in Need is delighted to announce that £130,520 worth of grants have been awarded across Scotland through its new Small Grants programme!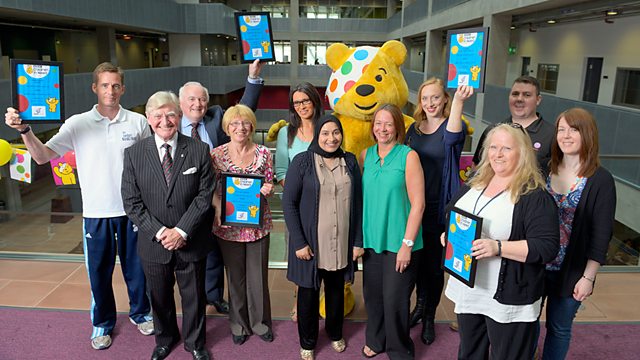 They will fund a range of children's activities including holiday play-schemes, trips and youth clubs. These grants will deliver a safe and fun-filled summer for the young people who attend these projects across the country.
Eleven of the new grant holders joined weather presenter Judith Ralston, Pudsey and BBC Children in Need staff in BBC Scotland, Pacific Quay for an event to celebrate the new awards.
They included Toonspeak Young Peoples Theatre, Scottish Sports Futures, Govan Weavers Society, Pollokshields Development Agency, Riverside Youth Club Glasgow, Women's Aid East Ayrshire, Coatbridge Parkour, Parent Action For Safe Play, Our Place Our Families Renfrew and Kirklandneuk Community Digital Inclusion Team.
Karen Doran, Children's Support Worker at Women's Aid South Lanarkshire said: "The impact on the self-esteem and confidence of children and young people affected by domestic abuse often prevents them from taking part in activities within their community. Receiving this award from BBC Children in Need will enable us to recruit activity co-ordinators locally to assist in the running of our leisure activities during school holidays."
Amanda Liddle, General Manager of Toonspeak Young Peoples Theatre, said: "The funding Toonspeak Young People's Theatre has received from BBC Children in Need will enable us to run a free theatre project for young people ages 11-25 living in the most deprived areas of Glasgow."
The 18 new grant awards range from £530 up to £10,000.
Click here for more information about our grants and how to apply.