Who you help: Connor and Cerebra
Five-year-old Connor is severely autistic. His family was told that he would never speak. He avoids eye contact with people and finds it difficult to interact with others. But with the help of sensory toys that capture his attention, he is able to communicate and play with his older brother Ethan, who's seven, and with his mum. He also says a few words now.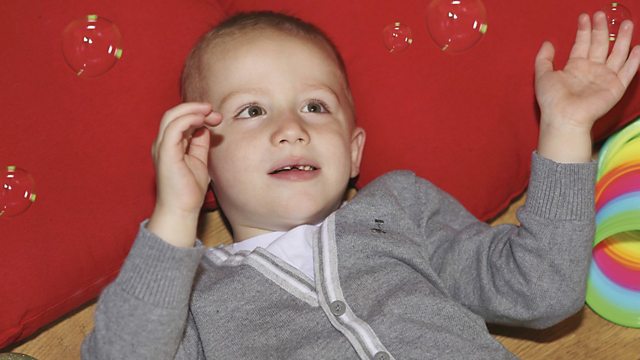 With the help of a BBC Children in Need grant, Connor was able to get help from the Sensory Toy Library at Cerebra in Carmarthen, Wales. Cerebra is a charity for brain injured children and young people and they supply just the sort of toys and equipment that benefit children like Connor. To make it easier for families who struggle to go out shopping and who might find the cost of buying toys expensive, parents from all over the country can browse and order a range of toys online. They are then delivered to their home by courier at no extra charge and can be returned by freepost too.
Connor's mum Sabrina says: "As soon as you find out your child has a disability you go out and buy a load of stuff to help them and it costs a fortune. But thanks to Cerebra, we can borrow things and see what he likes. Then buy it if he gets on with it well. The best thing we've borrowed so far was the dark room projector and UV lights. I also realised by borrowing some of the musical toys, that Connor just wanted a bell. But it could be something as simple as a slinky, which is very cheap, and we don't even pay the postage.
"I got in touch with Cerebra when Connor was getting diagnosed. It was a bit of a nerve-wracking time and they were so helpful. Not just with the toys that Children in Need fund but with other things too. Their sleep therapist came out and I got help with completing the complicated disability benefits claim forms so now we're on a higher rate."
Sarah Robey from Cerebra says: "Children with disabilities think, learn and develop in their own way.  Sensory toys enable children with different abilities to have the opportunity to play in a way that suits them. We have about 2,500 library members and 60 items of sensory toys and equipment. The sensory toys and equipment offer stimulating or relaxing play for children with disabilities.  Such toys are often too expensive for families to afford.  Delivery and collection of the toys is arranged and paid for by Cerebra. Toys are loaned for one to two months at a time. The most popular sensory items have resulted in lengthy waiting lists." 
The charity says that of the 700,000 new babies born in the UK each year, one in four develops a neurological problem. These problems manifest themselves in conditions such as cerebral palsy, epilepsy, learning difficulties, attention deficit, behavioural and emotional problems or developmental delay.
Your donations help Cerebra to provide a lending library of specialist toys and equipment which enables children with different abilities to have the opportunity to play and learn in a way that best suits them.
You can see the full list of toys and games on offer, and read more about Cerebra's work on their website.