Less than a year ago, Sufyan was like any other 12-year-old boy. He loved playing sport, especially football and rugby, liked hanging out with his mates and was looking forward to being a teenager getting up to trouble! Then very unexpectedly, his life began to unravel.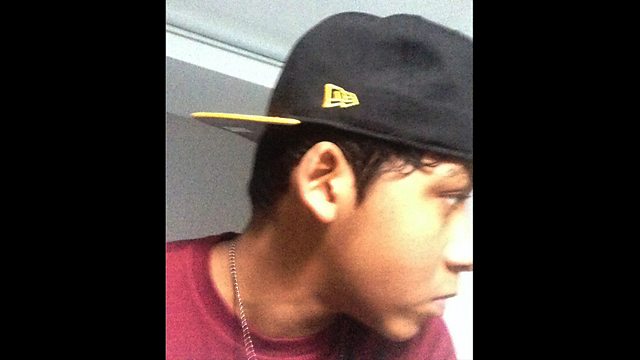 In the middle of 2013 Sufyan, who lives with his family in East London, began to have muscle aches which his mum Julie put down to growing pains typical for a boy his age.
She recalls: "By October Sufyan was falling over inexplicably and was always tired. Back and forth we took him to the doctors but it was a mystery. He stopped making the sports practices that he loved and even doing up shirt buttons had become a challenge! I was worried and beginning to suspect that he was being bullied and trying to avoid school."
After a particularly bad fall on the way to school an ambulance was called and it was the neurological doctors at the hospital who first suggested that Sufyan might be suffering from Myasthenia Gravis.
Myasthenia Gravis (MG) is an auto immune disease that is rare in children effecting 1 in every 100,000. It causes muscle weakening across the body though can be different in each case and fluctuate wildly. Siblings, parents, social work staff and school staff are therefore often not able to grasp the seriousness of the disease and think that the child (or the mother) is making it up.
In January 2014 Sufyan was diagnosed with MG which was both a shock and a relief to him and his family.
Sufyan says: "I'm still taking it all in. On a good day I will be able to do some sports and feel normal. On a bad day my eyes and head droops and my body fails me, it won't move fast enough. It's like an energy suck. I feel useless and don't see the point in doing homework or planning for the future. I never know when it's going to hit me and I get embarrassed."
The family recently had their first appointment at Great Ormond Street Hospital where doctors there were finally able to explain the disease and its treatment. Julie hit the search engines and discovered the Myasthenia Gravis Association (MGA) which offers an excellent virtual and telephone support network.
Part funded by BBC Children in Need the MGA run an annual weekend for children and young people with Myasthenia Gravis and Congenital Myasthenia Syndrome. Both of these diseases are extremely isolating and misunderstood. The weekends are an opportunity for children, siblings and parents to meet other families going through the same challenges. There is a packed timetable of activities and all about developing friendships and support bonds with real life families rather than medical professionals.
Rita Goldthorp who works for the MGA says the weekends have a dramatic effect on families.
"The difference having the funds from BBC Children in Need and other very generous trusts and individuals really has to be seen to be believed. The children have made friends and the recognition as people arrive on the Friday evening makes their faces light up and after a few minutes it's as though they met only yesterday. Being with people who understand that yes I want to go for a swim and then after 5-10 minutes I can't swim any more my energy has gone is a perfectly normal everyday occurrence and not a child who is being difficult or "silly". You are believed and this for a child is like waving a magic wand – and yes, we do have a magician who comes along to do some tricks!"
The doctors are keen to get Sufyan back into his football boots but need to get his medication right first. In light of his physical body failing him Sufyan turns his talents to a more cerebral outlet. An avid writer, he has composed a new poem to explain what it's like living with Myasthenia Gravis.
A poem by Sufyan:
As I walk down the road I start to get weak, my tongue gets heavy as I try to speak.
I have to stop and wait, I need to tell mum I'll be late.
I can't even lift the phone to my face , how am I going to call her? my heart starts to race.
I sit down and take my medication, I need to relax , I need to be patient.
Anger, frustration, I don't know how to cope but in my mind there still is hope.
Even though, right now it's a dream I know that one day I will be fit, rich and have self-esteem.
Sufyan and his family are now looking forward to the MGA weekend in June 2014.