Myles and Malcolm are 18-year-old twin brothers. You probably wouldn't guess that by looking at them and unlike other sets of twins they both live very different lives. Malcolm is 6'4" and going off to university this year, whereas Myles is about 5'4", has Down's Syndrome and may never fly the nest.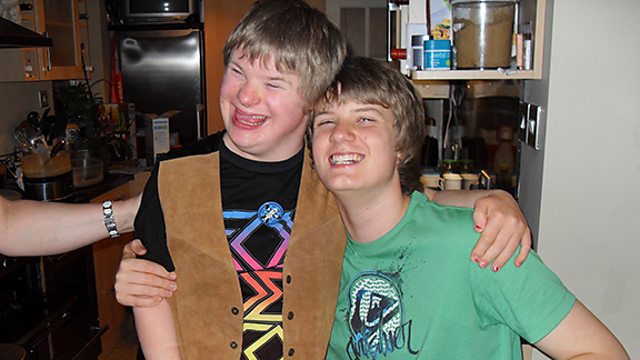 The first clue for parents Marina and Mike that something wasn't right was during the pregnancy. Marina could always feel one baby wriggling and kicking, but the other felt like a lead weight inside her.
On the day of their birth Myles was diagnosed with Down's Syndrome and sticky blood, which means that he does not produce plasma. The doctor said to the new parents: "One day we hope he might be able to tie his own shoelaces". If tying his shoelaces would be a challenge, what else would Myles struggle with?
When Marina first tried to breastfeed Myles he couldn't latch on properly and seemed unable to control his tongue. His tiny body was really cold and he was rushed to special care. Marina could only lie still terrified about what was happening to him.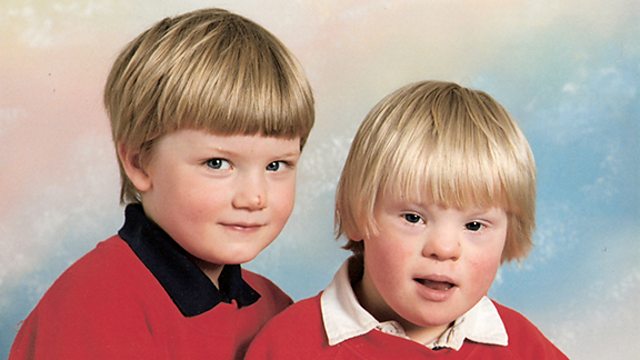 The twins grew up very closely. Malcolm often used to climb into Myles' cot in the night, because he missed being close to his twin. 
Even with all the difficulties of raising a child with Down's Syndrome, Marina and Mike have been lucky. They have been very well supported and Myles has always been in mainstream education, as they did not want him to be in split apart from other people his age.
Marina and Mike have worked hard to make sure that he had support all day while at school. In class teachers have taught the other children sign language to help them communicate with Myles, and the children in turn have taught their own parents.
Myles is also doing a number of work experience placements. The school runs a café for the parents and teachers and with the help of pictures, Myles works there waiting tables. He also volunteers on Sunday mornings at the YMCA shop and a farm one day a week. This is a real step forward for Myles and helps give him independence and the confidence that he so badly needs.
BBC Children in Need funds Swindon Down's Syndrome Group, a charity which supports the family and helps them learn more about the condition. They also organise fun outings, swimming lessons, have a book and audio library and Myles attended speech therapist sessions at the group.
Down's Syndrome affects one in every 1,000 babies born in the UK, but for twins like Myles and Malcolm, it's one in 15 million. Instead of focusing on the twins' differences, Marina and Mike feel immensely proud what both of them have achieved.
Find out more about who BBC Children in Need help in your area by clicking here.