CBeebies' Spring Celebration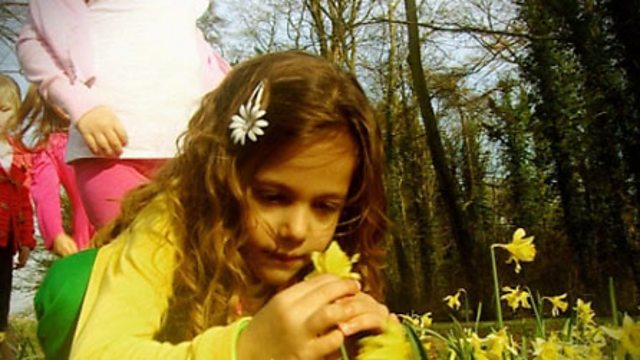 Hope you're all having a lovely Easter break and enjoying the unseasonally good spring weather - long may it last! Here at CBeebies HQ we're all looking forward to winding down for the bank holiday weekend and to celebrate, we've lined up a fantastic selection of Easter and Spring themed treats on CBeebies for the holiday.
Our favourite little lamb Timmy is back with some brand new epidodes this weekend, (there's a super-rabbit featuring in Saturday's and on Easter Sunday he's off on an egg hunt) and we have specials about spring and nature from Charlie and Lola, Something Special and Mighty Mites who are going tree-planting on Saturday and pond-dipping on Sunday.
As it's a bank holiday we've also extended the spring celebration fun into Good Friday and Easter Monday so a weekend schedule will be in place both of those days.
Saturday is also St George's Day and the Let's Celebrate episode that day follows twins Sam and Matthew getting ready for their St George's Day celebration, and of course on Sunday Let's Celebrate is all about Easter. If you haven't seen them before, please make sure you check them out, they do a really fantastic job of teaching children all about our celebrations and festivals and are lovely to watch.
You can check all the details of what's on over the weekend here:
http://www.bbc.co.uk/cbeebies/grownups/about/whatson/tv/
Or if you miss anything, you can always catch up on the CBeebies iplayer:
http://www.bbc.co.uk/iplayer/cbeebies/
Our spring celebration isn't constrained to sofa-bound activity though, CBeebies has lots of amazing ideas for taking the fun outside and things you can make and do this Easter. Look out out for the presenters getting crafty onscreen or check out the CBeebies website http://www.bbc.co.uk/cbeebies for some great spring ideas like planting seeds with Mr Bloom, making Balamory Easter Eggs or making a spring chick with the presenters.
As always, of course the website is crammed full of awe-inspiringly educational and fun games that are the perfect way for children to learn through play if (heaven forbid) the weather should break and we get a rainy day!
Don't forget, we always love to hear your thoughts about what we're doing here at CBeebies so please do leave me any comments or questions you have here on the blog.
Right, we're off to kick off our work shoes, don our Easter bonnets and enjoy the weekend! Hope you and your family do too!