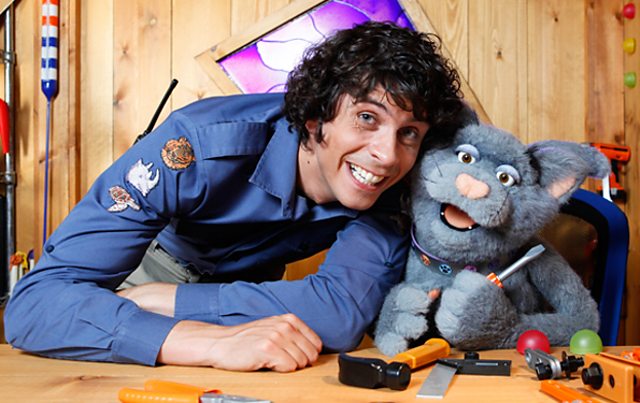 Hi! I'm Andy.
Anyone who recognises me as a presenter on CBeebies might have noticed I haven't been around as much as usual. Well, I haven't given up the day job yet but I do have an exciting new show to tell you about…
It all started two years ago, whilst travelling in Central America. I was asked to take part in a pilot for new children's TV show for CBeebies. Well, to cut a very long story short, I said 'Yes' and I made a pilot show with the help of The BBC's Natural History Unit in Bristol.
Thankfully the people in charge at CBeebies thought it was great and gave the go ahead to a whole series. So, for the past 10 months I have been very busy filming this brand new show which we called 'Andy's Wild Adventures'.
In the programme I work as a park keeper at Pickles' Animal Park for my boss Mr Pickles (Aka Alex Winters from CBeebies!) and with my intellectually gifted side-kick and friend 'Kip' (a cat!).
Our mission was to bring children right up close to some weird and wonderful animals! To do that, we've used the very best film from the BBC's Natural History Unit. Using green-screen technology, I've been embedded into each environment, which feels and looks pretty realistic!
During the course of the series and without leaving the 'comfort' of the studio, I've managed to hitch a ride on an ostrich's back, explore the fungus-filled nest of a colony of grass-cutting ants, and gone fishing alongside grizzly bears!
It's difficult to describe what an average day was like on set because it's always so different! I have been covered in more water/fake snow/mud/cocoa powder and flour than you can imagine!!
I also had the chance to fly! - while rigged into a harness of course. Eat your heart out Peter Pan!
There were countless 'funny moments' during filming and when working with live animals to film the Pickle's Animal Park sequences you always have to expect the unexpected, for example, when a very hungry pelican jumped from the water onto the grassy bank in front of me. The pelican's attempts to steal my bucket of fish (and almost my hand in the process!) using its extremely large, gaping mouth was quite unnerving, I can tell you!
Andy's Wild Adventures feels like a combination of some of my favourite childhood films: 'Honey I Shrunk the Kids', 'Indiana Jones' and 'The Goonies'! Without doubt, this is one of the best projects I have ever been involved in and I feel very privileged to be a part of it!
I really hope you all love this programme as much as we loved making it!
Thanks for watching…
Andy x