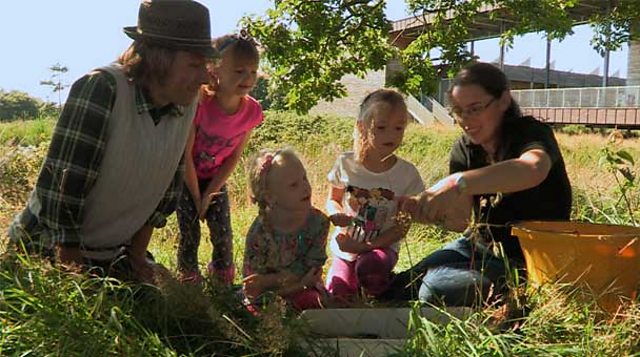 Mr Bloom meets some Tiddlers in new series 'Here and There'
Hi Ben! So what's 'Mr Bloom Here and There' all about?
'Here and There' provides an exciting new spin on things for Mr Bloom. The premise involves Mr Bloom visiting Tiddlers all over the country, so they can tell him and the viewer at home a little about where they live and what's great about it. It's similar in some ways to the 'off on an expedition' sections in 'Mr Bloom's Nursery: Get Set Grow', but bigger, better and with all-new catchy Bloom tunes!
Do the Veggies come along too?
I'm afraid this a solo trip for Mr Bloom as there were only so many seatbelts in the Compo car and he simply couldn't fit everyone in. So, while the Veggies get to spend some quality time in the allotment, Mr Bloom goes to meet a whole raft of Tiddlers from around the UK. What this does is allow a little more time to focus on the stories of the kids and what they get up to, rather than everything that goes on in the nursery. There's a little less gardening and a touch more extra curricular activities. That said, it's all still 'rooted' in the Bloom tradition of outdoor, hands-on fun.
But I know for a fact the veggies feel a little left out about this, and are most likely to vie for their own spin-off mini-series. Perhaps a chat show hosted by Colin?
What was the idea behind the show?
The heart of the show lies in children telling us what they love about where they live, and why that's the case. It's a really positive message that celebrates the kind of things that you can't really put a price on. When you're a child and you're piecing together an understanding of the world and how it works, your local area is such an important place and small things can leave a big impression.
This series shows a real diversity in what matters to kids; be it playing down by the local river with your friends, helping out on your uncle's farm, being part of a rugby team or learning about the world in your local museum. At the same time it's quite nostalgic, as it poses that question to us parents - what mattered to us when we were young? Strip away any monetary value and try and remember what you really cherished as a kid - it's quite interesting.
Ultimately I think it carries an overwhelmingly positive message that celebrates community, the outdoors and how value can be found in such a wide range of locations and activities. It cherishes those bits of childhood that really matter and provides food for thought for us adults who are encouraged to hark back to what we cherished during our childhood. With this series I'm really interested to hear feedback from people when they watch it and to see what sort of response it provokes.
Where did you film the series?
The new series was filmed in 4 weeks, in 4 regions around the UK: Scotland, the Midlands, Wales & the North West. The locations showed real diversity, ranging from rock pools to rugby pitches, inner-city markets to secluded bird sanctuaries. All in all, the shoot had a proper whirlwind feel to it as we were filming 5 episodes in as many days at a time. But one really lovely aspect to this was that on the Friday, Tiddlers and their parents from the previous 4 days were all invited to come together and take part in a big group activity.
 Are there any special episodes or places that we should look out for?
We shot a lovely episode on location in Wales with a life-saving club. They were a group of children called 'Nippers' who were given sea safety training by local lifeguards. It was a fantastic combination of events that really illustrated the heart of the new series. Namely, they were an inspiring community, doing really proactive things that were meaningful and beneficial to themselves and others. Not only that but it was a stunning location, great company and hearty laughs, plus at the day's end when we were finished they brought out some awesome pies for everyone. Even a full day of persistent Welsh drizzle couldn't dampen the mood. A top day all round.
 Did you have a favourite place that you remember going to when you were little?
If you had asked me when I was a primetime CBeebies-aged viewer I would have told you without hesitation, 'down the back'. Sounds a bit abstract now, but to put it in context, 'down the back' was where me and my brother would play. It was an area of overgrowth at the rear of our house teeming with trees, bushes, brambles and nettles, along with a bit of fly-tipping too. A classic 80s wild adventure land for kids! Minimum supervision, maximum exploration. This was a place where we could go and let our imaginations out of the box. A prime location for uninterrupted games that always brought you back home grubby, hungry and occasionally in trouble with a neighbour!
What did you most enjoy about making the series?
The thing I enjoyed most about the new series, apart from the fantastic new songs, was the fact that it puts the Tiddlers at the forefront of the story. In the absence of a narrative that's driven by the Veggies, the Tiddlers take centre stage to tell their own stories and celebrate what's great about their local area. It's an exceedingly positive series, and heartening to see that there's so much to be enjoyed and valued right on your doorstep or just around the corner from where you live.