Ben Faulks answers your questions
We put your questions to Ben Faulks (a.k.a. Mr Bloom) - here are his replies...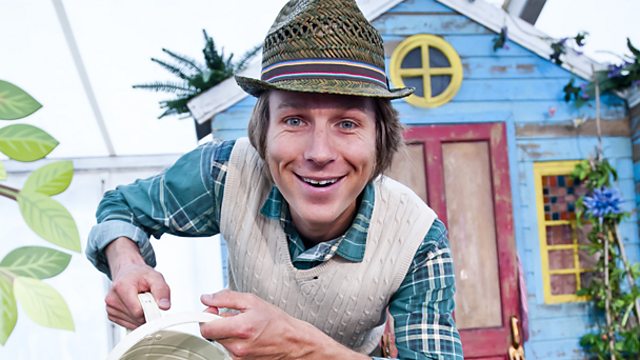 What's your favourite vegetable to eat?
At the moment, it's definitely asparagus.

Were there lots of outtakes when you made the episode with the nettle tea? We were laughing watching it, because we know how bad it smells…!
It was very funny, because it does have a horrid smell that tends to follow you around a bit – we had to use washing up gloves so that we didn't smell of it. It made me think of the Bog of Eternal Stench in the Labyrinth!

Are you surprised by how popular Mr Bloom's shows have become?
I am a bit surprised, but also so grateful – when you make work it's always because it's something that inspires you – so it's a lovely thing if other people like it as much as you do, it's really heartwarming.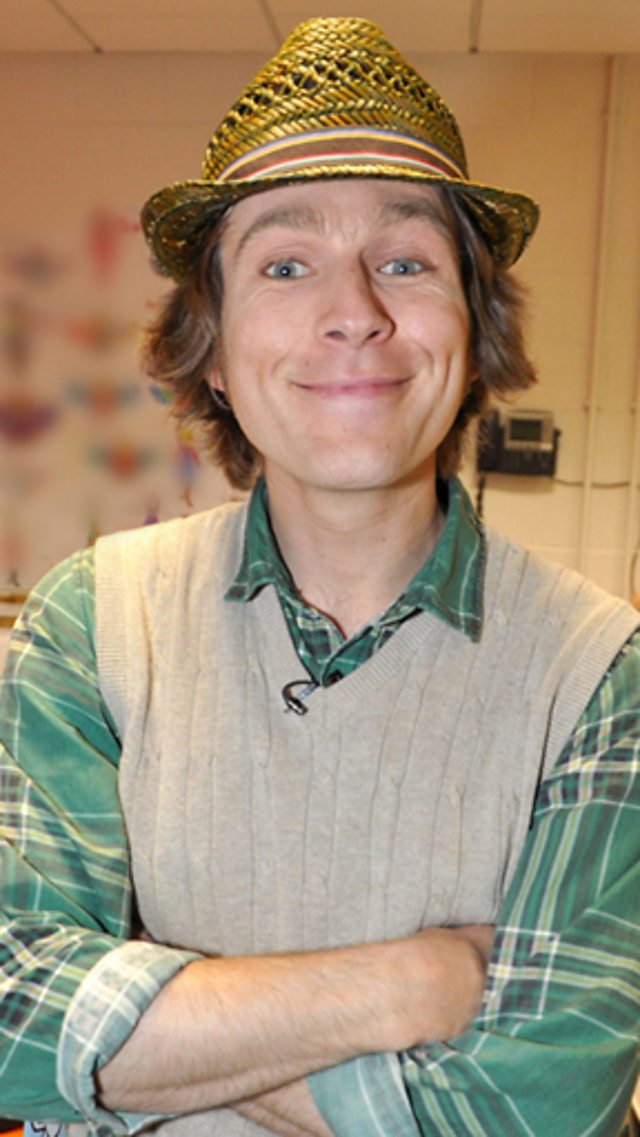 What's the funniest reaction you've had from a child meeting you?
There was one child I remember who was completely fascinated by my hair and couldn't get their head around the fact that it was actually real and didn't come as part of my hat! They thought that if I took my hat off, my hair would go with it and I'd have shorter hair underneath. Generally speaking, though, if I'm not in costume, I don't tend to get recognised very much.

If you weren't playing Mr Bloom, what would your dream acting role, or other job be?
As an actor, I'd love to play Doctor Who, and if I wasn't an actor, I'd love to be a sportsman because I just love playing games – probably if it was a team sport, it'd be rugby, or for a solo sport, tennis or trampolining. Or maybe cycling as well.

What did you do before appearing on CBeebies?
I went to drama college, and after I graduated in 2001 I moved to Manchester and was just writing and acting, doing things like Casualty and theatre shows, whatever came along. I began writing my own shows – that way, rather than waiting for the phone to ring, you can always write yourself as the star in your own show! So I toured and went to things like the Edinburgh Festival. I went freelance and started writing more for street theatre and outdoor events, and that's when I began writing the original theatre show that inspired Mr Bloom's Nursery, which was a show called The Vegetable Nannies, about a gardener looking after some young veggies. When we had our own kids, and started watching CBeebies, I noticed that there wasn't a horticultural show, so I pitched the idea to the BBC, and luckily it was the right thing at the right time.

How did you decide on the veggies' names?
Initially, when I was writing the theatre show, it was about seeing what kind of characteristics you get with a certain vegetable – for example, to me it seemed as if  cabbages are a bit demure, a bit shy, hiding behind their leaves, and that character kind of spoke to me as a Margaret. On the other hand, Raymond the Squash is quite rotund and dependable, and the name Raymond seemed to suit him.

Do you prefer your work on CBeebies, or straight acting?
I love Mr Bloom, and I love working on CBeebies – it's such a great channel and it's a real  privilege to be on the same roster as such fantastic programmes and performers. I enjoy working in as many different mediums as possible, and because Mr Bloom is a created character, rather than, say, me presenting as Ben, it means there's a bit more fun to be had with it, too. But I'm happy as long as there is work and scope for development.

Did you eat your veggies when you were a child? How do you encourage your own kids to eat their greens?
I think I did, actually, although I didn't eat tomatoes until I was about 21 – but I always loved eating vegetables. As far as my own children are concerned, they do go through phases where they'll go off things, but if we want them to eat something we'll usually play a game where we say there's a big party going on in their tummies, and pretend that whatever they don't want to eat wants to go and join the party! It's just a bit of fun, but they normally do end up eating everything when we play that game.

Where did you get the idea for Mr Bloom's northern accent?
He was just always a northern gardener from the very beginning. I grew up in Cornwall, but I've been living in the north since 1998 when I went to drama college in Wakefield. Where we lived in Wakefield there was a big allotment next to us, and you would see all the old boys there looking after their patches. I think the idea came from there. Whenever you build a character, they have to come from somewhere, and it just seemed right for Mr Bloom to be northern.

You're heading out on the road again soon with Mr Bloom: Here and There – what's your favourite day out with your own kids? What was your favourite when you were little?
We live in a lovely place with lots of nature, so our favourite day out would be to head down through the woods to the river, where there's a big pool so you can have a swim if the weather's nice, get the barbecue going and cook sausages, play pooh sticks and explore the river. It does need good weather though! When I was little I loved playing down the back of our garden, exploring with my brother.