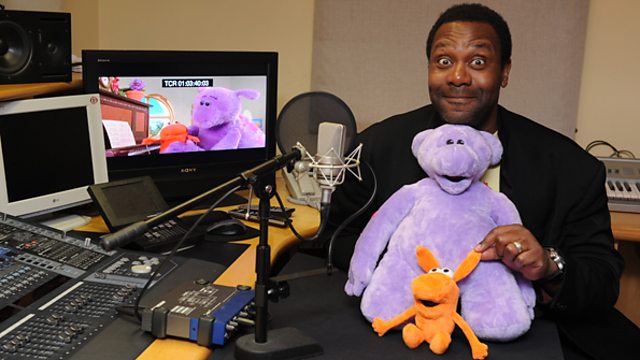 Hi, Lenny Henry, here, and I've been the voice of Big and Small on CBeebies from episode one right up to seventy-eight. That's a lot of voices! Big and Small are great characters and a joy to play. There are so many episodes where I've laughed a lot; the moments that are sublimely funny. They are a classic sitcom double act. 'Steptoe and Son' in fur! Or Big as Dean Martin with Small as Jerry Lewis. Big is very patient - up to a point, because Small is very demanding. But they balance each other: Small has a healthy enthusiasm for everything and Big provides a structure to their lives. Although Big is capable of getting really excited about mad inventions like a sound solving machine and has crazy plans like flying to the moon to collect rocks.
But it's important that the shows are not just funny, they are very simply about manners, about respecting people, about waiting your turn, about being self-less as opposed to being selfish. It's a very clever show, I think. And there are some fun shows in the new series: there's one about looking for gold at end of a rainbow (where I get to sing a Rainbow Rap; the songs are fantastic), one about building a mountain and another where Big and Small manage to get lost in the fog on their own pond.
I've done a lot of work for kids I have read stories on 'Jackanory Junior' for CBeebies and done voices on 'Tinga Tinga Tales' and 'Little Robots', as well as singing the theme tune on that show, which I also do for 'Big and Small'.
The reason I do kids' work is because I have a daughter and I wanted her to see and hear what her dad does. I've written stories for her, too. I remember when she was one year old and laughed like a drain during an episode of 'Pingu'. I thought it would be great to make my daughter laugh like that with my own work.
'Big and Small' came at the right time for me. I'd done 'Little Robots' and 'Tinga Tinga Tales'. I liked the Big and Small double act. Even in the gentler episodes they are funny together. I didn't know I was going to do both voices at first but when I was asked to do both I thought about Small having a naturally high Brummie accent and Big having a lower voice, basically my own. It was a challenge to do both voices and one I wanted to rise to doing.
The head script writer on the show, Kathy Waugh, knows the characters very well. They are very sure footed scripts and full of great moments. Big's inventions are good for a laugh. And I like it when Small's mouth wobbles and he uses being upset to get what he wants. But Small is kind to Big, too, or learns to be kind.
'Big and Small' is demanding to perform, particularly with Small's high voice. You have to be vocally fit and warm up before each recording session. It comes in handy that I've done a lot of radio, and all the TV I mentioned above, where I play all the characters, so I can keep the two voices distinct. Usually, I start the day with the songs. Then I do Small and then Big. Often with voice work you record the voices first and they will shoot the action to match but with 'Big and Small' they record the action first, so I have to match my voice to the character's mouth. It can be a bizarre situation doing the lip synch. But I try to make the performance my own, bringing my own comedy to the parts as much as I can.
I'm from the Midlands, the Black Country, and I never see a character from the Midlands on TV or in films. I always try to push for my real voice. With 'Big and Small' I did the accent and they said 'Great'. So Big and Small are from the Black Country, too. I'm very pleased about that!