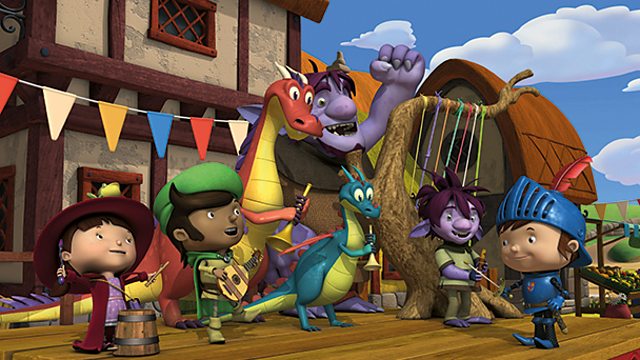 Mike The Knight
Mike the Knight is back with a new series on Monday 15
th
July at 8.00 am! We caught up with Sarah Legg who works on the show for the BBC to give us the inside track on what Mike and his friends will be getting up to..
What's your role in the show? 
I'm Sarah and I'm the Programme Executive for CBeebies. Mike The Knight is made by HIT Entertainment and editorially I work closely alongside them across the whole production, from storylines through scripts and on to the final episodes. 
What's new in the new series?
There's some very exciting new things coming up in this series! Mike and Evie find a Hidden Garden in the grounds of the castle, which opens up a whole new set of adventures. We get to meet the Great Waldorfini, Evie's magical teacher and wizard extraordinaire. And we also have lots of mayhem due to a cheeky gargoyle!
Do you have a favourite episode/moment from the new series?
It's difficult to choose one specific episode as there are so many great moments. But I do love the fact that Fernando, the lute-playing bard who opens and closes every episode, has a bit more of a starring role in this series. In fact, he has a few adventures of own, and I've grown really fond him as a character.
There's an extra special double-length Christmas adventure coming up later on in the year, so that's definitely one to look out for too!
What do you like about the show?
The show is filled with adventure and fun, but it has a really good moral lesson at heart: taking responsibility for your own mistakes and correcting them by doing the right thing. It's also aspirational – I'm sure many children would want to be a knight like Mike or a wizard like Evie. I certainly went through a phase of wanting my own pet dragon as a child. Actually, I still do… (Don't tell anyone!)