It's here! 'CBeebies Playtime' is the brand new CBeebies app for little ones and it's available to download via the Apple, Google Play and Amazon app stores from August 15th for mobile and tablet devices.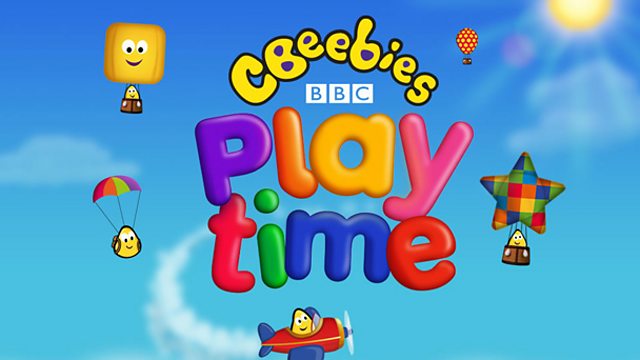 CBeebies Playtime is a free app for you and your little ones to enjoy and is filled with lots of great games for kids, hidden surprises and fun features. The CBeebies Playtime app is free from in-app purchases, which means that you can let your little one explore freely without having to worry. 

The CBeebies Playtime App contains four brand new games for kids, featuring CBeebies favourites; The Octonauts, Tree Fu Tom, Mr Tumble and the Alphablocks. As well as being great fun, these games are all designed to help little ones learn while they play.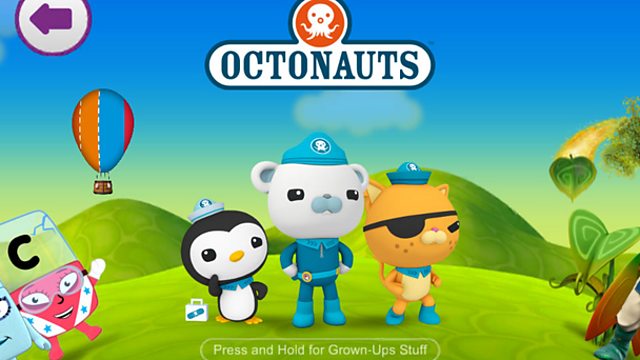 Keeping your little ones entertained couldn't be easier - simply use one of the links below to download and take the CBeebies world with you wherever you go. Once you've downloaded the app, you won't need an internet connection to play the games so little ones can play with their favourite CBeebies characters on car journeys, holidays or even in the supermarket queue!
Download to Apple devices
Download to Android devices
Download to Kindle Fire devices
Download to Windows Phone 8 devices

From CBeebies Playtime Interactive Producer:

"I'm Lizzie, Producer at Cbeebies. I was so pleased and proud to be a part of the CBeebies Playtime app; it has been a really exciting project to work on! As with all of our projects we visit schools, nurseries and playgroups all the time, to test new ideas and even the latest technology with kids and it's always so amazing to see how easily, even really young children enjoy playing on apps and touch screen devices. It's startling how quickly and effortlessly they pick things up!  So, we at CBeebies wanted to make one of the best, educational apps for kids available, free in the UK; one that grown-ups, children and siblings can enjoy as a family.


Kids have been at the heart of creating the CBeebies Playtime app and it has been fantastic to hear their thoughts, opinions and ideas along the way!


Our grown-ups are important to us and we have included a special section for grown-ups within the app with information, useful links and some fun elements too, like the 'special message' feature. You can find out more about the developmental benefits of each game here as well as some tips to support you to help your child learn while they play.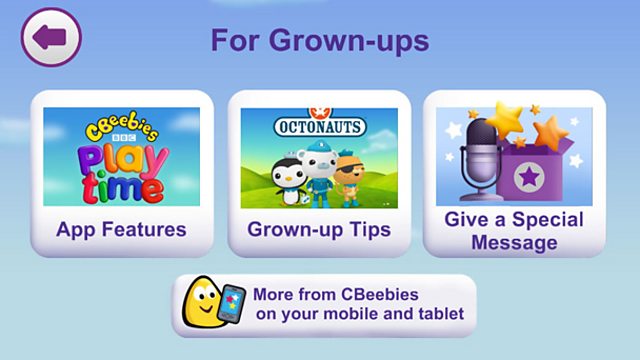 This initial release of the CBeebies Playtime app features four brand new games and there are so many great CBeebies shows, loved by so many kids that it was a not easy narrowing it down to a select few, but we hope that we have chosen a handful of our most channel defining brands, ones that really showcase what CBeebies is all about; fun, play and learning for little ones.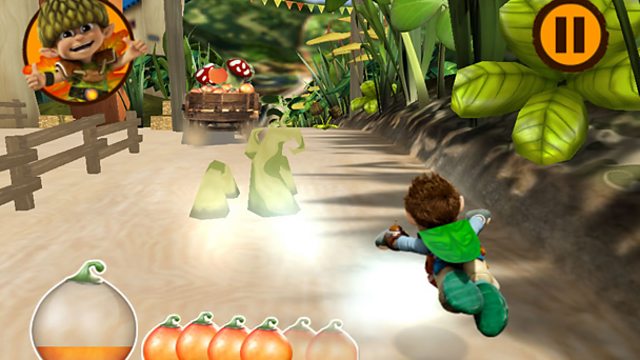 We hope that there is something for everyone to enjoy and with more exciting game additions and updates coming soon, you can keep up-to-date with all of the latest news and information right here!"
You can find out more about the features and games in the CBeebies Playtime App on our
grown-ups site
.
Read more about the CBeebies Playtime App on the
BBC Blog